Fenninger secures back-to-back wins at World Cup meet
Olympic Super-G champion Anna Fenninger won her second World Cup race in two days on Friday when she captured the giant slalom at Are and took charge of the overall standings.
The 24-year-old Austrian had also won Thursday's first giant slalom at the Swedish venue.
On Friday, she clocked 2 minutes 00.15 seconds with Germany's Viktoria Rebensburg and Sweden's Jessica Lindell-Vikarby behind by 0.61 seconds and 0.68 respectively.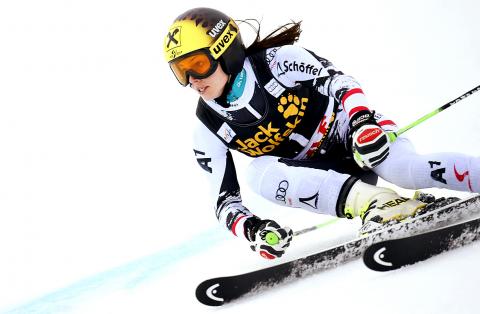 Anna Fenninger competes in the women's giant slalom World Cup alpine skiing race in Are, Sweden, on Friday.
Photo: Reuters
Her double success allowed Fenninger to take top spot in the World Cup overall standings, deposing Germany's Maria Hoefl-Riesch, who was 10th on Friday.
She has a seven-point lead over the German with five rounds left in the World Cup season.
Fenninger had already been the fastest in the first run on Friday ahead of France's Anemone Marmottan who took her first podium finish with a second place finish on Thursday.
In the World Cup giant slalom standings, Lindell-Vikarby has a 14-point lead over Fenninger.
"I just feel comfortable on my skis and try to go fast as I can and not to think about anything else but skiing," Fenninger said. "I don't know why I'm so fast to be honest. It feels really good to be in such a good shape and that it is working out that way."
"I was a bit nervous to be the first one to face the course in the first run. It's never easy to know how to attack the course. I won the race in the bottom section yesterday, so did I today. It's just amazing," she said.
Rebensberg believes she is gradually getting back to form having captured a bronze at the Olympic giant slalom in Sochi last month.
"I've had a tough season, with ups and downs. I was sick for almost two months. I couldn't train in November and December. The podium tonight makes me very happy," the German said. "I tried to be more aggressive than yesterday and to make the right adjustments. I actually wasn't that happy about my second run, I didn't feel I was fast. To see the green line after crossing the line was great."
Hoefl-Riesch was to race yesterday in the slalom with a chance to reclaim the overall top spot.
Fenninger was not listed to race yesterday.
Comments will be moderated. Keep comments relevant to the article. Remarks containing abusive and obscene language, personal attacks of any kind or promotion will be removed and the user banned. Final decision will be at the discretion of the Taipei Times.