Paralympics get off to glittering, emotional start
Russian President Vladimir Putin opened the Winter Paralympics in the Black Sea resort of Sochi on Friday and was immediately confronted by an emotional Ukrainian protest on a politically charged night.
As athletes from 45 countries took part in the opening ceremony, only one Ukrainian competitor appeared in a symbolic, scaled-down presence of the country that has denounced Russia's intervention in Crimea.
Spectators gave huge cheers and some even stood to applaud 37-year-old skier and biathlete Mykhailo Tkachenko, who came through the Fisht Stadium in his wheelchair.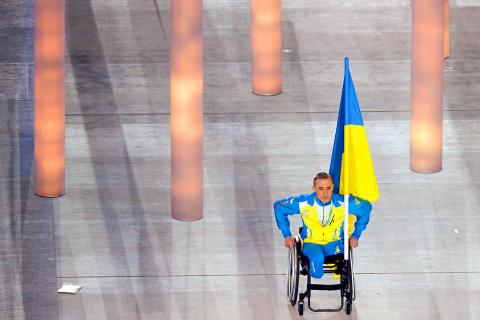 Ukrainian paralympic cross-country skier and biathlete Mykhaylo Tkachenko enters the Fisht Olympic Stadium alone during the opening ceremony of the Winter Paralympic Games in Sochi, Russia, on Friday.
Photo: AFP
Without a trace of a smile, Tkachenko proudly carried his country's national flag for his 31-strong team who did not enter the stadium with him.
Ukraine had earlier said it would refrain from any political protests during the ceremony and Paralympic committee head Valery Sushkevich said he even had to dissuade a teenage athlete from expressing her anger at Russia.
Ukraine had also decided that they would not boycott the Games, which run until Sunday.
Some Western countries, including the US, Britain and Germany, have not sent government delegations in protest at Russia's Crimea intervention.
In what appeared as a taunt toward the US, organizers played a popular 1990s Russian song called Good-bye, America when the Russian team closed the parade.
Putin had said that he hoped the Paralympic spirit will help "cool the tensions" surrounding Russia's policy on Ukraine, which has already caused the worst East-West crisis since the Cold War.
Sushkevich told journalists that he personally appealed to Putin for peace, but did not receive any assurances.
"I don't remember a situation in the history of the Paralympic movement when the host country began an intervention into a participating country," he said.
"We hope there will be steps for de-escalation, for lessening the threat of war," he added.
Holding back tears, Paralympic skier Grygoriy Vovchinsky said his team "is from all over Ukraine" and "speaks both Russian and Ukrainian."
"We are here, we represent a young country and we are ready to fight, to show that we are a strong nation, an independent nation. We love life, we love sport and we love a fair fight," Vovchinsky said.
The Paralympics in Russia are a major symbolic step for a country that for decades stigmatized people with disabilities.
"A new history of Russia is beginning, a history without barriers and stereotypes," Sochi Organizing Committee head Dmitry Chernyshenko said.
One month after Russia mounted a dazzling Winter Olympics opening, Friday's Paralympics curtainraiser featured classical ballet numbers and also included a monumental icebreaker that drifted across the stage to the sound of crushing ice.
Notable Russian Paralympians participated in the final relay to light the cauldron, including swimmer Olesya Vladykina and skier Sergei Shilov, who lit it with the final torch to booming fireworks.
International Paralympic Committee president Philip Craven, who was joined at the ceremony by International Olympic Committee president Thomas Bach, praised organizers for transforming Sochi "to make it accessible for everyone" and building "perfect" venues.
A total of 45 countries and 575 athletes are to compete in Sochi in five Paralympic sports, including alpine skiing, biathlon, cross-country skiing, wheelchair curling and sledge ice hockey.
For the first time, alpine skiing will include snowboarding as a discipline.
Soviet Russia did not participate in the Paralympic movement until the 1988 Games in Seoul, at the onset of perestroika, and people with disabilities often remained invisible in society, unable to exit their apartments or sometimes being sent to special homes.
Comments will be moderated. Keep comments relevant to the article. Remarks containing abusive and obscene language, personal attacks of any kind or promotion will be removed and the user banned. Final decision will be at the discretion of the Taipei Times.