Romania soccer legend Popescu gets jail for fraud
Former Romania soccer great and Barcelona captain Gheorghe Popescu was jailed for more than three years on Tuesday for his part in a corruption scandal that shook Romanian soccer.
The 45-year-old — capped 115 times and a member of the side that reached the 1994 FIFA World Cup quarter-finals — was one of several high-profile soccer figures to receive what are the heaviest sentences handed down in the country for corruption in the sport.
Popescu, who won the 1997 Cup Winners' Cup with Barcelona, earned league titles in Romania, Turkey and the Netherlands, and was Romania player of the year five times, was taken from the court and imprisoned in a Bucharest jail, police sources said.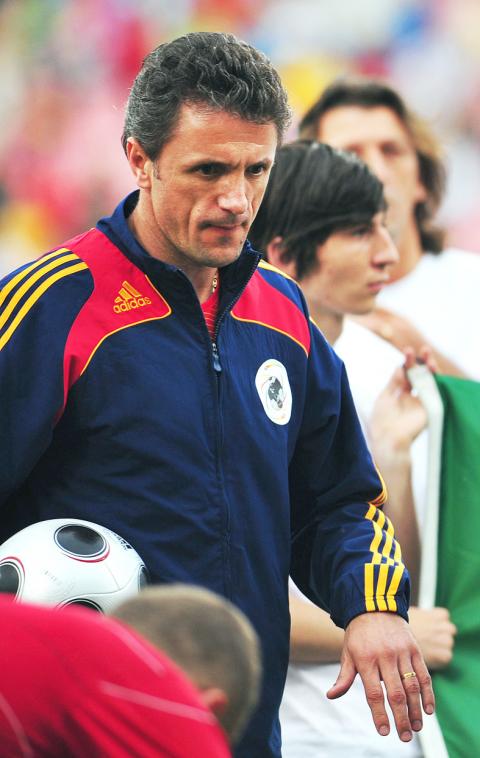 Gheorghe Popescu attends an event in Bucharest, Romania, on May 26, 2008.
Photo: AFP
He and his fellow accused were found guilty of not declaring the whole amount of transfers of 12 players from their respective clubs to foreign teams between 1999 and 2005.
They were all acquitted in their first trial before being tried again. In the second trial in November 2012, Popescu received a three year suspended sentence, but the case was heard for a third time.
According to anti-corruption prosecutors, the undeclared parts of the transfer fees were paid into personal bank accounts in the Virgin Islands and in the Netherlands at a cost of US$1.5 million to the state, US$10 million to the four clubs involved and US$600,000 to the Romanian Football Federation.
Popescu was sentenced to three years, one month and 10 days, while former Dinamo Bucharest president Cristian Borcea received a jail term of six years and four months, and ex-president of Rapid Bucharest George Copos got three years and eight months.
Two players' agents, brothers Ioan and Victor Becali, were sentenced to six years and four months, and four years and eight months respectively.
Among the transfers involved in the scandal were those of international trio Nicolae Mitea — transferred from Dinamo Bucharest to Dutch giants Ajax — Cosmin Contra from Dinamo to Spanish outfit Alaves and Ionel Ganea, who went from Gloria Bistrita to Bundesliga side VfB Stuttgart.
Comments will be moderated. Keep comments relevant to the article. Remarks containing abusive and obscene language, personal attacks of any kind or promotion will be removed and the user banned. Final decision will be at the discretion of the Taipei Times.