Brazil warms up to Winter Games ahead of Rio 2016
Down on Copacabana Beach, there's plenty of talk about June's FIFA World Cup and political protest as Rio residents relax on the sand.
With their festival of soccer just four months away, the 2016 Olympic Games that Rio will welcome as the event's first-ever South American hosts feel a long way off.
The ongoing Winter Games 11,000km away in the Russian city of Sochi might as well be taking place on another planet for most beachgoers in Brazil, but digging a little deeper reveals a nascent interest for winter sports in the land of soccer, even in curling.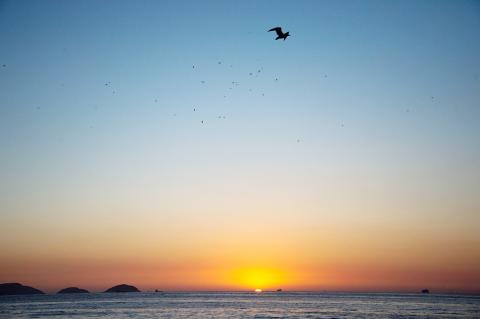 The sun rises over Copacabana Beach in Rio de Janeiro, Brazil, on Jan. 28.
Photo: AFP
Brazil's Winter Sports Confederation boasts a 13-strong team in Sochi — a national record — but the country is still awaiting its first Winter Olympics medal since it started competing in the tournament at the 1992 Albertville Games.
Like most Brazilian winter athletes, biathlon competitor Jaqueline Mourao trains far from home in Quebec, Canada. Mourao punched the air after finishing her events well down the field and the media were not slow to mock her.
"In 77th place, Brazil celebrates," sports daily Lance trumpeted to readers who had to wade through 30 pages of soccer coverage to read that Mourao had completed the 7.5km biathlon.
"The important thing is I made it to the [finish] line — I didn't fall," the 38-year-old said defiantly.
She was smiling again after doing marginally better in the 15km, where she came 76th.
Despite the newspaper's scorn, some of Rio's "Carioca" residents are making valiant attempts to join the Winter Olympics party.
In the Barra de Tijuca suburb, where much of the 2016 action will take place, broadcaster SporTV set up a makeshift curling rink, while children have flocked to the nearby Barra on Ice skating rink.
Most crash to the ground within seconds, but Sophia Duchemin twirls effortlessly around the ice.
"It's great fun. I really got into it watching the Vancouver Games in 2010," said the 10-year-old. "Watching the Sochi Games makes me want to strap on my skates,"
"Maybe she can do a Florent Amodio in reverse," her mother, Maria Claudia, said in joking reference to the Brazil-born skater adopted by a French family as a small child who became European champion for France in 2011.
Ice dancing clearly has appeal in Brazil, advertising graduate Luiz Alberto Benevides said.
Curling bemuses many, but fascinates Ana Prado, who co-writes a blog called "Curling Brasil."
"Many Brazilians have been watching the Games, but the time zone doesn't help," Prado said, adding that she first heard about curling in 2010.
"We've got a Brazilian team, but they trained in Canada. In Brazil, curiosity for games and social media contribute to the growth of sport," she said.
Globo reporter Helena Rebello said that when curling emerged at the 1998 Nagano Games it "seemed like a weekend pursuit stuck in the middle of a professional program."
Yet images of attractive Russian competitors splashed in the media this year have done the sport's pulling power no harm.
Bolivia-born Brazil resident Daniel Dalence took to Twitter to said that he is hooked on the sport.
"Anyone got a video of the final end between Switzerland and Russia?" he asked after a thrilling match saw the Swiss lose narrowly.
Even Barcelona star Neymar has kept tabs on some events and messaged injured freestyler Lais Souza after she missed out on Sochi.
"I'm praying you'll be back to cheer Brazil soon," he wrote.
The Rio Games organizers are to dissect information brought back by 64 observers from Russia, while seven have been assigned to the Sochi organizing committee
Yet while Brazil can get cold, Rio residents reach for sweaters rather than skis once the thermometer dips to 15?C and most remain cool about icy pursuits.
"But you wait, Brazil is getting its skates on," Duchemin said.
Comments will be moderated. Keep comments relevant to the article. Remarks containing abusive and obscene language, personal attacks of any kind or promotion will be removed and the user banned. Final decision will be at the discretion of the Taipei Times.