Heat tune up for Thunder face-off by defeating Mavs
LeBron James scored a season-high 42 points as the Miami Heat tuned up for a showdown with the Oklahoma City Thunder by beating the Dallas Mavericks 117-106 on Tuesday night.
James, who had his first 40-point game of the season, scored the first eight points and 10 overall in a 14-0 run that put the Heat up 106-95 after they trailed by one entering the fourth quarter.
Miami came out of the All-Star break by winning for the sixth time in seven games heading into James' duel with Kevin Durant in Oklahoma City today.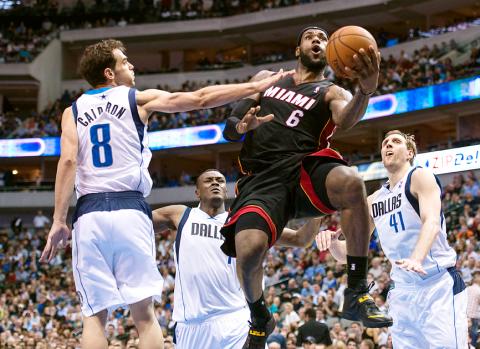 LeBron James of the Miami Heat, second right, drives to the basket past the Dallas Mavericks' Jose Calderon, left, and Dirk Nowitzki, right, in the second half of their NBA game in Dallas, Texas, on Tuesday.
Photo: Jerome Miron-USA Today
Dirk Nowitzki had 22 points to lead the Mavericks.
The deciding run started when James, who also had nine rebounds and six assists, stole a pass from Shawn Marion in the backcourt and pulled up for a tying three-pointer.
After hitting another three over Marion to put Miami ahead for good, James drove for a dunk following a Dallas turnover.
His previous season high was 39 in a win over Dallas in Miami.
Dallas missed seven shots and had three turnovers, while the Heat pulled away for their third straight season sweep of the Mavericks — six consecutive wins — since losing to them in the 2011 NBA Finals.
Chris Bosh scored 22 points for Miami and Dwyane Wade had 13 after missing the final two games before the break with a foot problem. Chris Andersen scored a season-high 18.
SPURS 113, CLIPPERS 103
In Los Angeles, Patty Mills scored 16 of his 25 points in the fourth quarter, while Tim Duncan had 19 points and 13 rebounds during a foul-plagued 38 minutes as San Antonio charged out of the All-Star break with a victory over Los Angeles.
The Spurs played without six-time All-Star Tony Parker, who coach Gregg Popovich said would be sidelined "for the foreseeable future" because of numerous aches and pains — including a bruised shin, a groin strain and lower-back spasms.
The veteran point guard, who played 11 minutes in Sunday's All-Star game, is the Spurs' leading scorer and their only player averaging at least 30 minutes.
Blake Griffin had 35 points and 12 rebounds, Jamal Crawford scored 25 and DeAndre Jordan grabbed 18 rebounds for the Clippers. J.J. Redick missed his fifth straight game with a sore right hip.
Backup shooting guard Manu Ginobili returned to the Spurs' lineup and had nine points in 14 minutes after missing eight games because of tightness in his left hamstring.
PACERS 108, HAWKS 98
In Indianapolis, Indiana, Paul George scored 26 points, including four three-pointers, to lead Indiana over Atlanta.
David West had 17 points and Lance Stephenson added 13 to help the Pacers beat the Hawks for the second time in three meetings this season.
Kyle Korver scored 19 points, shooting five for seven on three-pointers, while Lou Williams added 18 points for the Hawks, who have lost six straight.
The Pacers went on a 12-2 run in the third quarter on a basket by West, two three-pointers by George, and a dunk and layup by George Hill to give Indiana a 73-54 lead early in the third quarter.
The Pacers put the game away when Ian Mahinmi converted a three-point play and Danny Granger hit a three to take a 101-82 lead.
GRIZZLIES 98, KNICKS 93
In Memphis, Tennessee, Mike Conley scored 22 points on his return after missing seven games with an ankle injury, while Mike Miller added a season-high 19 as Memphis weathered New York's second-half rally.
Miller shot seven for 11 from the field, including five of seven on three-pointers, to help Memphis win their third straight. His three-pointer with 45.9 seconds remaining gave the Grizzlies the lead for good as they scored the game's final seven points.
Tim Hardaway Jr scored 23 to lead the Knicks, including 14 during their fourth-quarter push. Carmelo Anthony finished with 22 points and 11 rebounds.
Memphis built an 18-point cushion in the first half, before the Knicks rallied to take a seven-point lead in the fourth quarter.
SUNS 112, NUGGETS 107, OT
In Denver, Colorado, Gerald Green scored a career-high 36 points, including eight in overtime, as Phoenix handed Denver their fifth consecutive loss.
Goran Dragic added 21 points and 14 assists for the Suns, who completed a four-game season sweep of the Nuggets, their first in nine years.
Evan Fournier scored 25 to lead the Nuggets, who lost a tough game after being blown out in their previous four defeats.
Kenneth Faried added 21 points and 10 rebounds for Denver, who were without leading scorer Ty Lawson (broken left rib) for a third consecutive game.
CAVALIERS 114, 76ERS 85
In Philadelphia, Tyler Zeller scored a season-high 18 points and grabbed a career-best 15 rebounds, while Kyrie Irving added 14 points as Cleveland pushed their winning streak to five games with a blowout of skidding Philadelphia.
Irving, selected Most Valuable Player of the NBA All-Star game on Sunday with 31 points and 14 assists, played only 23 minutes in the rout.
Dion Waiters had 13 points before leaving with a knee injury in the second quarter.
Luol Deng also scored 13, while Tristan Thompson had 12 points and 10 rebounds for the Cavaliers (21-33), on their longest winning streak since an eight-game run in March 2010. That was LeBron James' final season in Cleveland.
The reeling Sixers fell to 15-40 with their ninth loss in a row and eighth straight at home — their longest skid since the 1996-1997 season. Philadelphia have dropped 19 of 22 overall.
RAPTORS 103, WIZARDS 93
In Washington, Kyle Lowry had 24 points and 10 assists as Toronto broke open a close game in the third quarter before holding off Washington.
Five Raptors joined Lowry in double figures, including Amir Johnson, who returned after missing two games with a sore right ankle. He scored 14 points.
BOBCATS 108, PISTONS 96
In Auburn Hills, Michigan, Al Jefferson had 32 points, 12 rebounds and seven assists to lead Charlotte over Detroit.
Kemba Walker scored 22 points, while Josh McRoberts added 14 points and 10 rebounds to help the Bobcats extend their lead over the Pistons to 1.5 games for the final playoff spot in the Eastern Conference. Jefferson reached 30 points for the sixth time in nine games.
BUCKS 104, MAGIC 100
In Milwaukee, Wisconsin, Brandon Knight overcame a bizarre foot injury, scoring 18 points and making two free throws with 5.5 seconds left to seal Milwaukee's victory over Orlando in a game between two of the NBA's worst teams.
Orlando fell to 3-24 on the road. Despite snapping a four-game losing streak, the Bucks have lost 19 of 22 overall.
Comments will be moderated. Keep comments relevant to the article. Remarks containing abusive and obscene language, personal attacks of any kind or promotion will be removed and the user banned. Final decision will be at the discretion of the Taipei Times.