Barca make mockery of crisis talk with City rout
Barcelona dismissed any notion that they are a declining force when they won 2-0 at Manchester City on Tuesday to virtually guarantee their place in the quarter-finals of the UEFA Champions League for the seventh successive season.
A match billed as a possible turning point in City's history following their glitzy, cash-laden rebirth fulled by owner Sheikh Mansour bin Zayed Al Nahyan's heavy investment, ended in a comprehensive win for Barca.
Barca, top of La Liga and in the Copa del Rey final, now look set to advance in the Champions League and make a mockery of remarks Chelsea boss Jose Mourinho made before the match, saying: "This is the worst Barcelona team for many, many years, so City have a chance."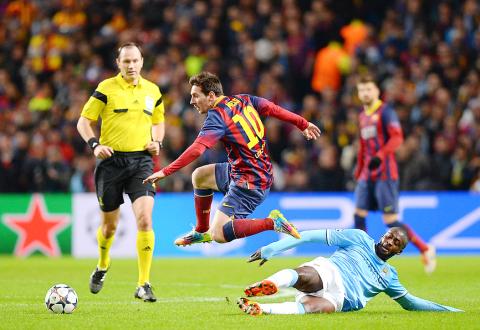 Barcelona's Lionel Messi, center, jumps over Manchester City's Yaya Toure, right, in their UEFA Champions League last-16 first leg in Manchester, England, on Tuesday.
Photo: AFP
Barcelona's Cesc Fabregas said he and his teammates were pleased to have silenced their critics.
"We had a point to prove, and we did it very well," he told ITV. "Some people were talking a bit too much before the game and now they have to shut up for a few days."
While the second leg at the Camp Nou on March 12 is not entirely a formality, City will have to overcome considerable odds, as well as the weight of competition history, if they are to keep alive any dream of winning four trophies this season.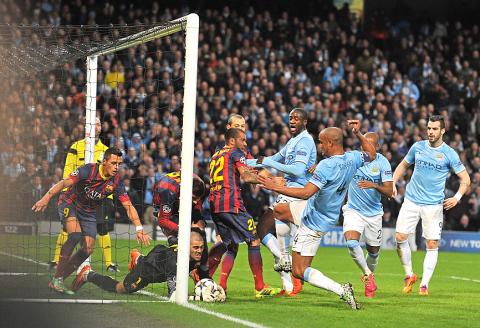 Barcelona 'keeper Victor Valdes, third left, makes a save in their UEFA Champions League last-16 first leg against Manchester City at the Etihad Stadium in England.
Photo: AFP
Since they first met English opposition in European competition in 1960, Barcelona have lost only two of 27 home matches, with Liverpool winning both of them: a UEFA Cup match in 1976 and a Champions League round-of-16 game in 2007.
Only twice since the Champions League began 22 years ago has a side progressed after suffering a home first-leg defeat, a rare feat at the best of times and one City are likely to have to attempt without coach Manuel Pellegrini on the bench.
The normally taciturn Chilean launched an astonishing verbal attack on referee Jonas Eriksson after the game, questioning his impartiality and accusing the Swedish official of deciding the outcome.
City went behind when Eriksson awarded a penalty to Barcelona in the 53rd minute for a foul by Martin Demichelis on fellow Argentine Lionel Messi that appeared to initially take place outside the area.
Eriksson immediately dismissed Demichelis, leaving City with 10 men as Messi scored from the spot, before Dani Alves added a second goal in the 90th minute.
Angry about the penalty, Pellegrini said, among other things: "Before the penalty there was the foul on [Jesus] Navas, when he [Eriksson] was 3m from the player, so he saw it without any problem. From the beginning, I felt that the referee was not impartial to both teams. The penalty on Martin Demichelis was not a penalty — it was outside the box."
Asked why he had spoken to Eriksson at the final whistle, Pellegrini said: "Just to tell him that he had decided the game."
"I think the best [biggest] mistake was to put a referee that damaged Barcelona in the stage of group [sic]. This referee whistled the Barcelona-[AC] Milan game [in the 2012 quarter-finals] and he made an important error against Barcelona. Today [Tuesday] he arranged [atoned for it]," Pellegrini said.
"More important football is played in Europe than in Sweden so a big game with two important teams — that kind of game needs a referee with more experience," the Chilean added.
However, Eriksson was refereeing his 22nd Champions League match, officiated at the Euro 2012, is on the list for this year's World Cup in Brazil and has been a FIFA referee since 2002.
Of more immediate concern to Pellegrini, rather than where he watches the game from, will be to devise a way City can turn the tie around after conceding two goals at home without scoring themselves.
One blessing in disguise is that he will not be able to play Demichelis, because the defender will be banned for the second leg.
Despite the setback, Pellegrini's side have had a superb season and are still in contention for an English treble of Premier League, FA Cup and League Cup trophies.
City should have Argentine striker Sergio Aguero back for the second leg, but even that may well be a case of too little, too late.
Comments will be moderated. Keep comments relevant to the article. Remarks containing abusive and obscene language, personal attacks of any kind or promotion will be removed and the user banned. Final decision will be at the discretion of the Taipei Times.