Sweden end Slovenia's hockey fairytale in 5-0 washout
With Henrik Lundqvist in net, Sweden's men's ice hockey team never seem to be short-handed and that was the case yesterday at the Sochi Olympics, when Lundqvist made 19 saves for his second shutout of the Games and Carl Hagelin scored twice to help Sweden rout Slovenia 5-0 and move into the semi-finals.
The New York Rangers star, who also blanked Switzerland in the preliminary round, won the 2012 Vezina Trophy as the NHL's top goaltender. Lundqvist lifted Sweden to gold at the Turin Games eight years ago without a shutout and believes he is better now.
"I learned so much over the years in New York," he said. "I changed my game a lot."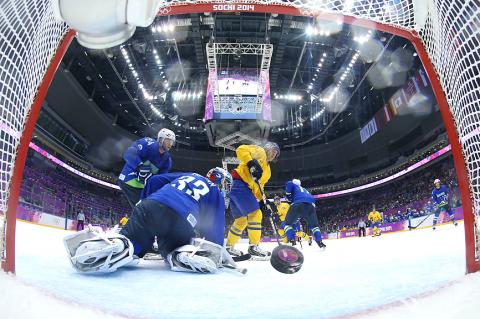 Carl Hagelin of Sweden yesterday scores against Slovenia goalkeeper Robert Kristan in their men's ice hockey quarter-final at the Bolshoy Ice Dome during the Sochi Games in Russia.
Photo: AFP
Tomorrow, the 2006 Olympic champions will face the winners of yesterday's Russia-Finland game for a spot in the gold-medal tie.
"Does it matter?" Sweden coach Par Marts said when asked about his next opponent, before predicting that Russia would win.
Sweden are the only team to win all four of their games in regulation and that without star players Henrik Zetterberg, Daniel Sedin and Johan Franzen.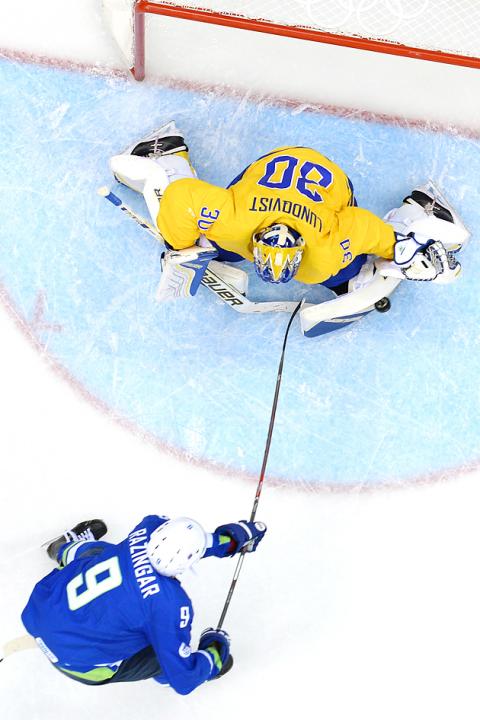 Slovenia's Tomaz Razingar, bottom, vies with Sweden goalie Henrik Lundqvist in the Winter Olympics men's ice hockey playoffs at the Shayba Arena in Russia on Tuesday.
Photo: AFP
Even without them, the smooth-skating, sweet-passing Swedes have a shot to beat anyone in the tournament, in part because of Lundqvist.
"He's been tremendous," teammate Daniel Sedin said. "It's fun to watch."
So were Slovenia, playing their first Olympic hockey event until they were eliminated in a blowout.
Alexander Steen got the first goal at 18:50 into the game. After a scoreless second, Daniel Sedin, Loui Eriksson and Hagelin broke it open with four goals in the third period.
"I can't blame the players because their tanks were really empty," Slovenia coach Matjaz Kopitar said.
Slovenia earned a surprising spot in the 12-nation tournament by beating Belarus, the Ukraine and Denmark in last year's qualification tournament. They have only one NHL player, Anze Kopitar of the Los Angeles Kings, and are coached by his father, who said his country has just five fully covered hockey rinks and wants to double that.
"I hope something good can come out of here," the coach said.
Sweden has 23 players from the NHL, not counting Zetterberg, who is one of six Detroit Red Wings who went to Russia to play for the team.
Like Slovenia, Latvia also reached the Olympic quarters for the first time, beating Switzerland 3-1 on Tuesday to avenge a 1-0 loss in the preliminary rounds.
Latvia got goals from Oskars Bartulis and Lauris Darzins in the first 12 minutes. Switzerland struck back late in the second period on a goal from Martin Pluss, but Darzins iced the result when he scored into an empty net with a minute left.
Tuesday's victory was Latvia's first at the Olympics in 12 years and their reward is a quarter-final clash with defending champs Canada.
"It was a long, hard road to here, but we stuck together as a team and battled through it and came out winners," Latvian captain Sandis Ozolins said.
Also on Tuesday, the Czech Republic held on to beat Slovakia 5-3 after surviving a fierce comeback.
Two goals from Roman Cervenka, along with one each from Ales Hemsky and David Krejci gave the Czech side a comfortable 4-0 lead late in the second period.
However, Slovakia responded with three goals during a 13-minute stretch that spanned the second and third periods to set up a wild finish.
Czech captain Tomas Plekanec then sealed the win with an empty netter with 39 seconds to play.
Comments will be moderated. Keep comments relevant to the article. Remarks containing abusive and obscene language, personal attacks of any kind or promotion will be removed and the user banned. Final decision will be at the discretion of the Taipei Times.