Rice win revamped Pro Bowl
CHANGE FOR THE BETTER: Abandoning conference matchups to let Jerry Rice and Deion Sanders draft their teams led to a 22-21 game that went down to the wire
The revamped selection process and a gutsy play late in the game helped provide one of the closest finishes in Pro Bowl history as Team Rice edged out Team Sanders 22-21 in Honolulu on Sunday.
With the league opting to abandon conference match-ups and invite Hall of Fame players Jerry Rice and Deion Sanders to draft teams, the change led to a competitive and close contest that went down to the wire.
With Team Rice trailing 21-14 in the final minute, running back DeMarco Murray caught a 20-yard pass from Alex Smith to pull within a point.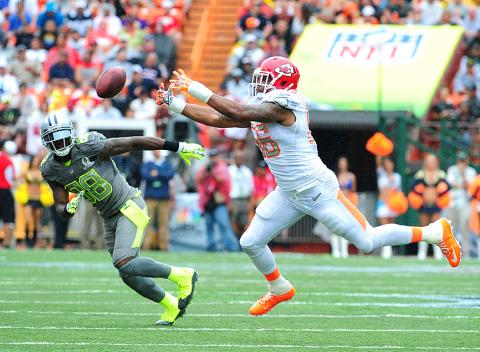 Derrick Johnson of the New Orleans Saints and Team Rice, right, defends a pass against Dez Bryant of the Dallas Cowboys and Team Sanders during the Pro Bowl at Aloha Stadium on Sunday in Honolulu, Hawaii.
Photo: AFP
Rather than going for a routine point-after-touchdown kick that would have tied the game, Team Rice attempted a two-point conversion for the go-ahead score and were successful when Mike Tolbert's short run took him into the end zone.
Tolbert embellished his feat by imitating the scoring celebration of Carolina Panthers teammate Cam Newton, who was one of the quarterbacks for Team Sanders.
"I told Cam I was going to mess with him if I got in the end zone, so I had to," Tolbert told reporters.
However, Team Sanders was not done, as quarterback Nick Foles drove his team downfield to set up a Justin Tucker 67-yard field goal that missed and ended the contest.
The latest edition of the Pro Bowl was a departure from the offensive shootouts of the past and Sunday's game included eight turnovers, six of them interceptions, and nine sacks.
"Early on, there was a lot of turnovers because of the weather, there was a lot of rain," Team Sanders captain J.J. Watt said.
Former greats Sanders and Rice were rumored to possibly suit up for the game, but their services were not needed to produce an entertaining display that went back and forth throughout.
Team Sanders wide receiver DeSean Jackson opened the scoring with a 36-yard catch from Andrew Luck in the first quarter.
Team Rice tied it in the second quarter, when Jimmy Graham hauled in an eight-yard score from Drew Brees.
Newton plunged into the end zone from one-yard out to put Team Sanders 14-7 ahead, but Josh Gordon's 10-yard catch from Philip Rivers evened up the contest just before halftime.
After a scoreless third quarter, Team Sanders once again moved in front on a 12-yard pass from Foles to Jordan Cameron to make it 21-14 with 4 minutes, 41 seconds remaining.
After the game, Foles was named the offensive Most Valuable Player for throwing for 89 yards and a score, while Derrick Johnson of Team Rice took home the defensive award with nine tackles and a pass deflection.
Comments will be moderated. Keep comments relevant to the article. Remarks containing abusive and obscene language, personal attacks of any kind or promotion will be removed and the user banned. Final decision will be at the discretion of the Taipei Times.