Yulon Luxgens beat Taiwan Beer 75-66
The Yulon Luxgens yesterday afternoon bounced back from a tough loss to the Taiwan Mobile Cloud Leopards the night before with a 75-66 win over Taiwan Beer at the Hsinchu Municipal Gymnasium to close out the year on a high note.
Chou Shih-yuan played his best game of the season by far by netting a season-high 24 points in a game he spent most of the fourth quarter on the bench. The 11th-year veteran sharpshooter out of the former Taipei Physical Education College showed no signs of slowing down after a mid-season slump by converting 9-of-17 from the field, including three threes to lead the four-time champs to triumph.
Also starring for the automakers was rookie point guard Sabatino Chen of the University of Colorado who has made the most of his recent starts in the absence of Chen Chih-chung by racking up 13 points, 15 rebounds, and seven assists in the game.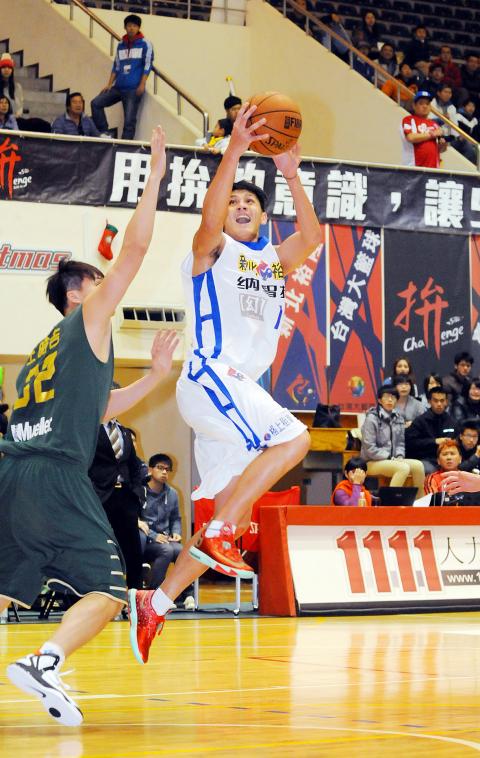 Chou Shih-yuan of the Yulon Luxgens evades a Taiwan Beer defender to get a shot off last night in Hsinchu.
Photo courtesy of the SBL
Yulon opened the contest with a surprising 24-11 lead after one quarter of play and upped it to 40-24 at the half with 17 points from Chou and 11 points from fellow forward Lu Cheng-rue.
The double-digit cushion proved sufficient despite a fourth-quarter rally by the Brew Crew to give Yulon the win that propelled them to No. 3 in the standings.
As for Taiwan Beer who ascended to as far as No. 2 in the standings with four straight wins prior to this week, back-to-back losses for the week have dropped them back to No. 4 as they look ahead into the second half of the season.
TIGERS 97, PURE YOUTH 81
The red-hot Dacin Tigers made it three wins in a row in the Windy City of Hsinchu by humbling league-leading Pure Youth Constructions 97-81 in the second game yesterday to achieve a perfect 3-0 score for the week.
Lin Guan-luen tallied a season-high 35 points for the Cats in a game he shot better than 60 per cent (13-for-21) from the field to demonstrate his uncanny scoring ability.
Coming into the game with a three-game win streak, the Builders looked flat from the get go as they surrendered a season-high 60 points to the Tigers in the first half to lose the game long before the final buzzer.
In other SBL action, the Taiwan Mobile Cloud Leopards beat Kinmen Kaoliang 102-75
Comments will be moderated. Keep comments relevant to the article. Remarks containing abusive and obscene language, personal attacks of any kind or promotion will be removed and the user banned. Final decision will be at the discretion of the Taipei Times.