Aldridge sparks Blazers in overtime
LaMarcus Aldridge scored 32 points and grabbed 10 overtime points to spark Portland over the Los Angeles Clippers 116-112 on Thursday, giving the Trail Blazers the National Basketball Association's (NBA) best record.
French forward Nicolas Batum and guard Wesley Matthews each added 19 points, making key contributions in the fourth quarter and overtime as the Trail Blazers improved to 24-5, moving past Oklahoma City and Indiana, both 23-5, for the NBA's top mark.
It also mark's Portland's best 29-game start to an NBA season since going 23-6 to open their 1990-1991 campaign and edged the Trail Blazers ahead of Oklahoma City atop the Northwest division.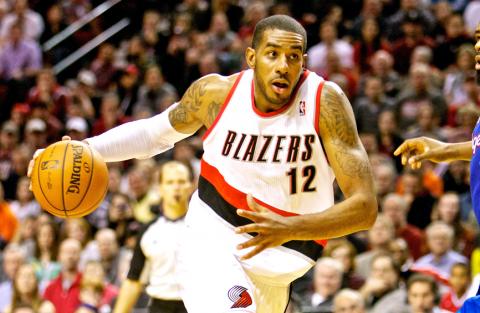 The Portland Trail Blazers' power forward LaMarcus Aldridge drives to the basket against the Los Angeles Clippers in Portland, Oregon.
Photo: USA TODAY Sports
Blake Griffin scored 35 points and grabbed 11 rebounds, while Chris Paul contributed 34 points and a game-high 16 assists for the Clippers, who fell to 20-11, but still lead the Pacific division.
"They are good. They have so many weapons," Aldridge said. "They played great."
Jamal Crawford added 21 points for the Clippers, while DeAndre Jordan had 19 rebounds for Los Angeles. Robin Lopez had 11 points and 15 rebounds for Portland.
The game was deadlocked at 101-101 after regulation time, but Portland was sparked by Aldridge, who had a three-point play and a jumper to give the Trail Blazers a 106-105 lead.
Matt Barnes scored on a rebound to put the Clippers ahead, but Matthews sank two free throws to put the hosts on top 108-107.
A Griffin dunk put Los Angeles back in front 109-108, but Aldridge answered with a turnaround jumper over Griffin to give the Trail Blazers a 110-109 lead.
Batum was fouled by Barnes and sank two free throws to put Portland ahead 112-109 with 26.5 seconds remaining.
Griffin answered with a slam dunk, but Damian Lillard of the Trail Blazers had two free-throws to restore a three-point edge. Crawford went one-for-two from the free-throw line to make it 114-112, but Matthews hit two free-throws for the Trail Blazers and Paul missed the final shot from three-point range to seal the loss for the Clippers.
The Blazers led 76-73 entering the fourth quarter and stretched the margin to 11 points as the Clippers missed five of their first six shots in the period.
Los Angeles rallied with 11 points in a row to equalize at 91-91 on Crawford's three-pointer as Portland went scoreless for more than three minutes.
Paul made a jumper to put the Clippers ahead 97-96, their first lead since 8-7 just 5 minutes, 38 seconds into the game, and hit another after Aldridge answered for Portland to keep the Clippers in front 99-98.
After a block by Jordan, Paul sank a right-corner shot just inside the three-point arc to give Los Angeles a 101-98 edge with 9.3 seconds remaining.
The Trail Blazers, the NBA's top three-point shooting squad, answered on a three-pointer from atop the key by Batum with 5.3 seconds to play to level the score at 101-101. Paul missed a final jumper and the game headed for overtime.
Each team had won both of their previous overtime games this season.
Comments will be moderated. Keep comments relevant to the article. Remarks containing abusive and obscene language, personal attacks of any kind or promotion will be removed and the user banned. Final decision will be at the discretion of the Taipei Times.