Warriors down Clippers in feisty showdown
Klay Thompson blocked a shot by Chris Paul with a second left then contested Jamal Crawford's three-pointer that fell short at the final buzzer as the Golden State Warriors held off the Los Angeles Clippers 105-103 in a feisty game that featured a pair of ejections on Wednesday night.
Paul's lay-in with 11.9 seconds left went around the rim and out, but Andre Iguodala missed a pair of free throws with 9.3 seconds remaining. That gave the Clippers the ball back with 8.3 seconds to go.
Stephen Curry overcame a slow start to score six of his 15 points over the final 3 minutes, 1 second as Golden State snapped the Pacific Division-leading Clippers' season-best five-game winning streak. Thompson finished with 23 points, while David Lee had 23 points and 13 rebounds.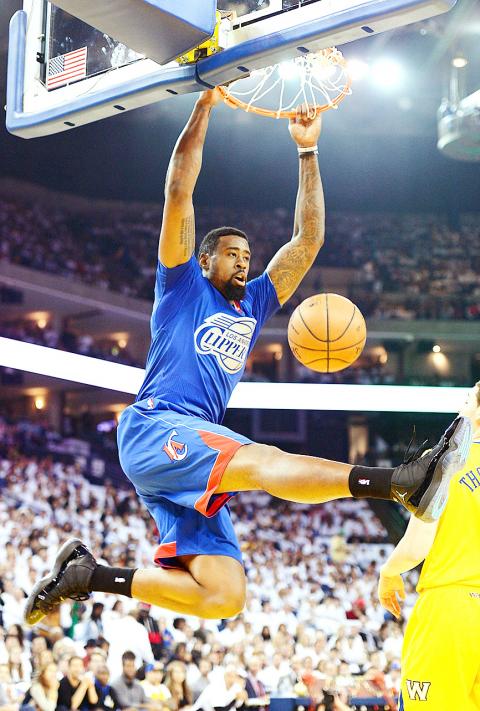 DeAndre Jordan of the Los Angeles Clippers slams dunks against the Golden State Warriors in the first quarter of their NBA game in Oakland, California, on Wednesday.
Photo: AFP
Blake Griffin was ejected for his second technical with 10:43 remaining after scuffling with Andrew Bogut, following Golden State's Draymond Green to the showers after they got into it at the end of the third quarter. Green was tossed for a flagrant two foul.
When the game ended, players tangled near the tunnel to the Clippers' locker room and security personnel stepped in — and former Warriors swingman Stephen Jackson could be seen screaming in the middle of it all.
It sure was feisty and festive from the opening tip-off at the sold-out Oracle Arena, where fans wore "Christmas Whiteout" snowflake Warriors T-shirts for the holiday.
Paul had 26 points and 11 assists as he and Curry put on a late-game show between two of the Western Conference's top point guards. Griffin added 20 points, 14 rebounds and five assists before his early exit.
Bogut added 10 points and 14 rebounds.
Neither Clippers coach Doc Rivers nor Warriors coach Mark Jackson is ready to deem this a California rivalry just yet — not until both teams are consistent contenders year after year, they say.
It is certainly getting heated enough to be close to such status and they see each other twice more — next on Jan. 30.
Griffin was held back by teammates at the end of the third quarter while jawing with Green. Following a review, Griffin received a technical and Green was ejected for a flagrant foul two after throwing an elbow.
Then officials went to a review once more to look at a tussle between Griffin and Bogut. Griffin left the game, while Bogut was hit with a flagrant one and a technical.
The Clippers, who never trailed in the first half, took a 77-74 lead into the see-saw fourth quarter. They dropped to 19-3 when leading after three quarters and 8-3 on the road.
Los Angeles beat Golden State 126-115 at home on Oct. 31 to hand the Warriors their first loss a day after a season-opening win against the Lakers.
Curry performed when it mattered, though he is shooting just nine for 44 in three Christmas games. Lee and Bogut each have double digits in rebounds in 10 straight games.
Golden State grabbed their first lead at the 10:35 mark in the third on Bogut's running jumper and began the second half with an 11-6 spurt.
The Warriors missed their initial six shots and fell behind 8-0, while Lee began one for seven, before a big second quarter got the Warriors back in it.
The Warriors were nine of 30 early in the second period and two of seven from three-point range, but pulled within 49-45 on Curry's three-pointer with 3:16 before halftime, his first points of the game after missing his initial four shots.
The Warriors were 22 for 52 in the first half — taking more shots than the Clippers' 21 of 40 — but Lee's dunk pulled Golden State within 53-51 at halftime.
Comments will be moderated. Keep comments relevant to the article. Remarks containing abusive and obscene language, personal attacks of any kind or promotion will be removed and the user banned. Final decision will be at the discretion of the Taipei Times.