Heat's King James reigns in LA
UPSTAGING SANTA: LeBron James captivated the fans from the moment he began delivering his bag of Christmas gifts in the form of crowd-pleasing highlights
With an ailing Kobe Bryant watching from the sidelines, the Los Angeles Lakers' traditional Christmas Day game was lacking in star power, but that simply left more room to showcase the league's main attraction.
LeBron James stands alone as the NBA's premier performer and in Miami's 101-95 victory over the Lakers on Wednesday James electrified the Staples Center as only he can.
By his own lofty standards it was a light day's work for James, who finished with 19 points, eight rebounds and four assists, but what he lacked in numbers he made up for in sheer brilliance.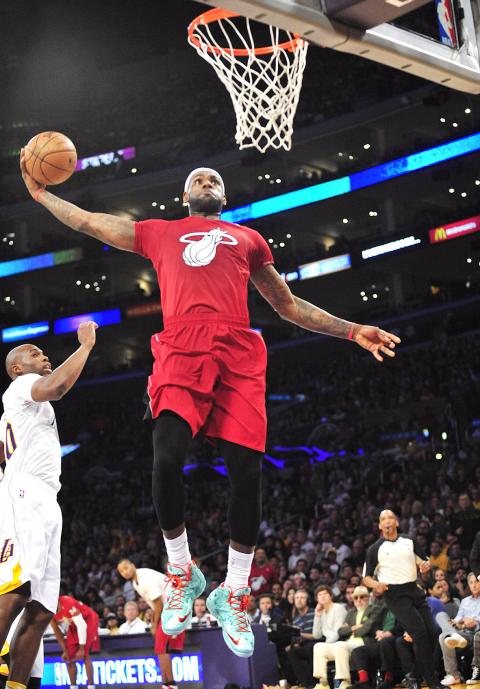 Miami Heat small forward LeBron James, right, dunks against the Los Angeles Lakers in the first half of their NBA game at the Staples Center in Los Angeles on Wednesday.
Photo: Gary A. Vasquez-USA Today
"There's entertainment value every time we go out there," the 28-year-old James said of his approach to performing. "We're entertainers as well [as basketball players]. It's great people enjoy that."
Wearing his special edition mint-shaded Christmas Nike shoes, James captivated the arena's attention from the moment he bounced onto the court and began delivering his bag of holiday gifts in the form of crowd-pleasing highlights.
In the opening quarter alone, James flexed his muscles with a one-handed alley-oop that he threw down with such momentum that his lunging body knocked Lakers defender Nick Young beyond the baseline.
The four-time Most Valuable Player easily topped that in the second quarter where he trailed Dwyane Wade on a fastbreak, caught a pass off the backboard and slammed it with his left hand.
It was a mesmerizing sequence that left the crowd gasping.
Even NBA great Magic Johnson was taken with the play, tweeting: "The lob DWade threw to LeBron was one of the greatest plays I've ever seen!"
James himself expressed the desire to see the dunk again for a better understanding of what he had actually performed.
"I have to see it again to give a [good description]," he said. "It went off the glass and the only way I could catch it was with my left. I had to improvise."
James only took 14 shots in the game, but most of them were memorable.
He has regularly displayed more discretion in shot-taking for two-time defending champions the Heat (22-6) this season and he entered Wednesday's game making just a shade below 60 percent of his attempts from the field — an astounding number for a perimeter player.
"He's been playing out of his mind," said Lakers coach Mike D'Antoni, who worked with James when he was an assistant coach with the US Olympic team. "He gets better every year. [Coaching him], sometimes it was like he was playing with a [toy] truck in the driveway. He's just above everyone else."
James' showmanship was the best-case scenario for a matchup that had long lost its sizzle since the league scheduled it.
The Lakers are an annual participant in the NBA's Christmas Day program, but their allure is based on their past and not their present.
Bryant is hobbled (left knee), as is veteran Steve Nash, and the current Los Angeles roster is one of middling overachievers.
The Lakers (13-16) showed a fighting spirit in taking an early lead and pulled to within two points in the final quarter, but James made a big three-point play, added a crucial assist, and finished his solo act on a winning note, and a thrilling one.
"It's not as fun [to play] when Kobe's not out there, let's be honest, [but] I was excited to play on Christmas again. We wanted a good game, I think the NBA wanted a good game, too," James said.
Comments will be moderated. Keep comments relevant to the article. Remarks containing abusive and obscene language, personal attacks of any kind or promotion will be removed and the user banned. Final decision will be at the discretion of the Taipei Times.