Day shares his World Cup joy with grieving family
Jason Day was planning a few celebratory drinks after winning the US$8 million World Cup of Golf on home soil yesterday, before turning his efforts to raising awareness for the devastated Philippines, where eight of his relatives were killed by Super Typhoon Haiyan.
The grieving 26-year-old competed with a heavy heart at Royal Melbourne, but played some of the finest golf of his life to seal the individual trophy by two strokes and drive Australia to a runaway victory in the team competition.
Day's triumph was watched by his Filipino-born mother, Dening, whose own mother was lost in the typhoon, and the pair shared an emotional embrace by the 18th green after the final par-putt rolled in before a roaring gallery.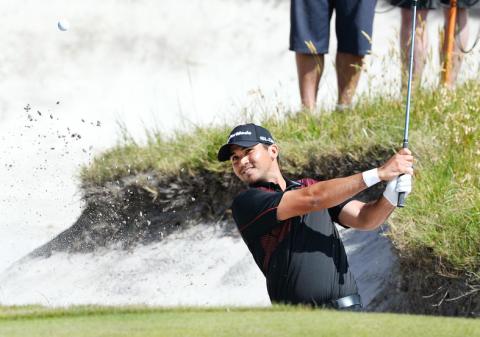 Australia's Jason Day hits out of a bunker on his way to winning the individual and team events at the World Cup of Golf at Royal Melbourne in Australia yesterday.
Photo: AFP
Prior to the tournament, Day said he had hoped his teammate, world No. 2 Adam Scott, would carry him through, but he ended up shouldering the load after the US Masters champion opened with a four-over 75, including a nightmare quintuple-bogey on the 12th.
Locked in a two-way battle with seasoned Dane Thomas Bjorn on the back nine, Day drained a seven-foot putt for a crucial par on the 16th to take a one-stroke lead and held on to celebrate an emotional victory.
"It feels great, I just really don't know what to think right now," the world No. 18 told reporters after notching just his second victory three years after his maiden title at the Byron Nelson Championship. "Today I learned a lot about myself ... I am definitely going to embrace being a World Cup winner tonight and I won't go too crazy, but I will definitely have a drink or two and, you know, right now I am just the happiest guy."
Day won US$1.2 million for sealing individual honors at the biennial tournament and will share another US$600,000 with Scott for winning the team trophy.
"Right now we're in the process of doing something," Day said when asked about relief efforts in the Philippines. "Definitely, we'll probably most likely set something up and definitely be giving some money or raising money, and trying to raise awareness to what has really happened over there."
"The devastation and the tragedy that's gone on over in the Philippines is very difficult for us to see," he said. "Once you know of someone or are related to someone who has gone through something like that it's very close to the heart."
Day and Scott's triumph in the team event was Australia's fifth.
Australian golfing luminary Peter Thomson, a five-time Open winner who clinched the 1954 and 1959 trophies with compatriot Kel Nagle, was at Royal Melbourne to congratulate Day personally.
"He said that he was going to see his friend Kel Nagle and he was going to tell his friend about what he saw today," Day said of the 84-year-old. "I replied I'd love to have five British Opens, too. He said: 'At least get three.' So I have to kind of fulfill my promise there one day."
Comments will be moderated. Keep comments relevant to the article. Remarks containing abusive and obscene language, personal attacks of any kind or promotion will be removed and the user banned. Final decision will be at the discretion of the Taipei Times.