Third-quarter scoring run powers Heat over Hawks
Chris Bosh scored 19 points and Mario Chalmers went on a personal 9-0 run in a 39-second spurt of the pivotal third quarter as the Miami Heat topped the Atlanta Hawks 104-88 on Tuesday for their fourth straight victory.
Bosh shot eight of nine for the Heat, who got 17 points from Ray Allen and 13 from LeBron James. A 15-2 run in the third quarter gave Miami all the room they needed, even on a night when Dwyane Wade sat out to rest.
Mike Scott scored 15 points and grabbed 10 rebounds for Atlanta, who got 12 points apiece from Al Horford and Pero Antic.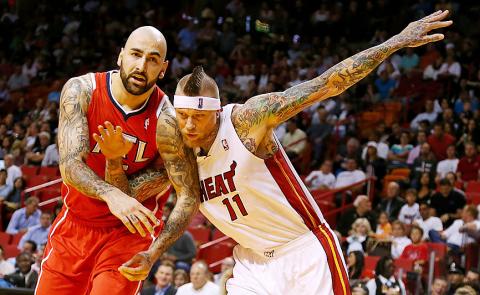 The Miami Heat's Chris Andersen, right, and the Atlanta Hawks' Pero Antic fight for a rebound during their game at American Airlines Arena in Miami on Tuesday.
Photo: AFP
Atlanta's Kyle Korver made three three-pointers, extending his streak to 84 consecutive games with at least one make from beyond the arc, five shy of matching Dana Barros' NBA record.
Houston's Terrence Jones scored a career-high 24 points and grabbed nine rebounds to lead the Houston Rockets over the Boston Celtics 109-85 for their third straight victory.
Jones was 10 of 12 from the field as the Rockets shot 57 percent as a team, including 72 percent in the first half in building a 24-point halftime lead.
Patrick Beverley got 16 points, James Harden added 15 points, five rebounds and five assists, and Dwight Howard had 10 points and 11 rebounds as the Rockets raced out to a 17-point, first-quarter lead and were never threatened.
Courtney Lee had 17 points, Avery Bradley added 11 and Jared Sullinger had 10 points and nine rebounds off the bench for Boston, who lost their fourth in a row.
At Auburn Hills, Michigan, Rodney Stuckey scored 15 of his 21 points in the second half as the Detroit Pistons beat the New York Knicks 92-86, their first win over the Knicks in eight meetings.
Josh Smith added 19 points for the Pistons, who led 71-63 after three quarters and scored the first seven points of the fourth.
Carmelo Anthony led the Knicks with 25 points.
In other games, Bradley Beal scored 25 points, and John Wall equaled his career high with 16 assists as the Washington Wizards beat the Minnesota Timberwolves 104-100, while DeMarcus Cousins had 27 points and 12 rebounds to lead the Sacramento Kings past the Phoenix Suns 107-104.
Comments will be moderated. Keep comments relevant to the article. Remarks containing abusive and obscene language, personal attacks of any kind or promotion will be removed and the user banned. Final decision will be at the discretion of the Taipei Times.