Stadium bans for ASG Nocerina death threat 'delinquents'
Stadium bans have been issued to 23 hardcore fans of Italian third-tier side ASG Nocerina following Sunday's "hate derby" with US Salernitana 1919.
The game descended into chaos when Nocerina's players faked injury in order to be taken off after receiving death threats from their own "ultra" supporters.
The fans issued the menaces in retaliation to being banned from a game which had to be called off after 21 minutes when Nocerina were left with only six players on the pitch.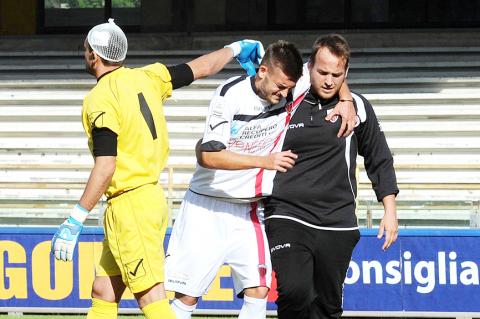 ASG Nocerina's Petar Kostadinovic, center, leaves the pitch with an injury in their Lega Pro match against US Salernitana 1919 in Salerno, Italy, on Sunday.
Photo: EPA
Tuesday's stadium bans for "aggravated violence" were handed down by police in Salerno, where one of the ultras, Pino Alfano, works for the local authority.
Local media have described Sunday's game as "the derby of hate," with Italy coach Cesare Prandelli suggesting "everyone had lost" as a result of events in Solerno.
"This episode should make us reflect, here we're not talking about ultras, but delinquents, it's a social problem," Prandelli said.
Salernitana president Claudio Lotito, who holds the same position at Serie A giants SS Lazio, sparked controversy when comparing the Salerno derby to forcing "Israelis to take on the Palestinians."
Sunday's game achieved notoriety when Nocerina lost eight players to "injury."
Having used up their quota of three substitutes, which had come within the first minute, it left the team from Nocera Inferiore in Campania with just six players on the pitch — not enough to contest a match — and the referee was forced to call it off.
Nocerina, who are bottom of Group B in the Lega Pro, the third tier of Italian soccer, were judged to have lost the game 3-0.
The league's president Mario Macalli said: "These events have caused great damage to football and the Lega Pro."
Comments will be moderated. Keep comments relevant to the article. Remarks containing abusive and obscene language, personal attacks of any kind or promotion will be removed and the user banned. Final decision will be at the discretion of the Taipei Times.