No worries for Wawrinka, Rafa comes to the rescue
If Stanislas Wawrinka's life depended on the outcome of one tennis match he would surely want Rafael Nadal fighting his corner, and while the stakes were not as high as life or death on Friday, the Swiss player's fate was in safe hands.
Having beaten David Ferrer 6-7 (3/7), 6-4, 6-1 to claim his second Group A victory at the ATP World Tour Finals, Wawrinka knew a Nadal win later against Tomas Berdych of the Czech Republic would send him through to the semi-finals along with the Spaniard.
Nadal was already guaranteed his place in the last four, but any thoughts of the Mallorcan going through the motions and conserving his energy were quickly dispatched as the world No. 1 went about his work with his usual intensity.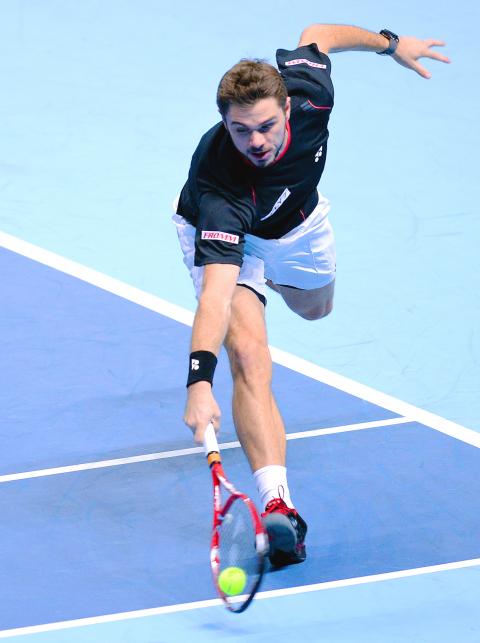 Stanilas Wawrinka of Switzerland returns to Spain's David Ferrer in their ATP World Tour Finals match at the O2 Arena in London on Friday.
Photo: EPA
Berdych pushed the 27-year-old all the way and thundered through the second set in 29 minutes, but Nadal pulled out all the stops to earn a 6-4, 1-6, 6-3 victory, sealing top spot in the group and avoiding a semi-final clash with Novak Djokovic.
"At the end I play for myself, 200 [ranking points]," Nadal said when asked about the implications of his win for Wawrinka.
"I went on court like as if I am playing for the qualification. I knew [after winning the first set] that I had won the group, but it was important to finish that match the way that I did. I'm very happy for that," added Nadal, who is still in line to earn the US$1.9 million for an undefeated champion.
Spain's Rafael Nadal returns to Tomas Berdych of the Czech Republic in their ATP World Tour Finals match at the O2 Arena in London on Friday.
Photo: Reuters
Wawrinka has the daunting task of trying to derail Djokovic's bid to retain the title, but the Swiss player will not care.
The 28-year-old was the only first-time qualifier at the tournament and with wins against Berdych and Ferrer he has proved he belongs in such exalted company.
Even in losing 7-6 (7/5), 7-6 (8/6) to Nadal he played superb tennis, actually winning more points than the Spaniard, and Djokovic will be wary of his threat, especially after their epic tussles at the Australian and US Opens this year.
"I can be only really happy with the tournament. It doesn't matter what happens tonight," Wawrinka had told reporters after beating Ferrer, although he admitted he would be glued to his television later rooting for Nadal.
Wawrinka may have felt relaxed enough to change channels and search for a movie when Nadal broke Berdych's serve in the opening game on his way to claiming a first set in which he bludgeoned the Czech all over the spectacular O2 court.
Berdych had lost 14 consecutive matches to Nadal, a morale-sapping sequence dating back to 2006, but he is made of sterner stuff these days and was not going to give up on his semi-final hopes without at least unloading some heavy artillery.
He broke Nadal's serve to lead 2-0, held his own to love with some booming deliveries, then broke to love again.
In the blink of an eye it was 5-0 and Nadal was suddenly rattled by the firepower coming his way, casting anxious glances across to coach "uncle Toni."
Nadal, who had won only four points in five games, managed to hold serve to avoid an unthinkable bagel against his name, but Berdych belted down more aces to complete a breathtaking set. Wawrinka need not have worried, though.
Nadal gritted his teeth, battled through his opening service game after being taken to deuce and always kept his nose in front in the third set, cranking up the pressure with some ripping forehands.
Something had to give and inevitably it was Berdych, with two double faults gifting Nadal the crucial breakthrough in the eighth game, before he claimed victory, his 74th of a sensational season, with a searing forehand winner.
Berdych, who still has the Davis Cup final against Djokovic's Serbia to look forward to, neatly summed up the difference on the day.
"Those two double faults gave him that game," Berdych said. "That game I didn't handle well. That's it. That's the difference between the sixth-ranked player and the No. 1."
Nadal had a day to rest and watch six-time champion Roger Federer try to become the second Swiss player in the semi-finals by beating Juan Martin del Potro in a shootout for the runners-up spot in Group B yesterday.
"If it's Del Potro, if [it] is Federer, both players know very well how to beat me, on this surface especially," said 13-time Grand Slam champion Nadal, who is assured of finishing the year as the world No. 1. "The only way to win the match of semi-finals is playing my best match, playing fantastic tennis."
Comments will be moderated. Keep comments relevant to the article. Remarks containing abusive and obscene language, personal attacks of any kind or promotion will be removed and the user banned. Final decision will be at the discretion of the Taipei Times.