Mexico thanks US for Brazil hope
Mexicans never imagined being in this position: Having to shamefully say gracias to bitter rivals the US for helping their soccer team stay in contention for next year's FIFA World Cup.
After losing 2-1 to Costa Rica on Tuesday, Mexico were flirting with disaster until Uncle Sam, who had already qualified, rode to the rescue by scoring two stoppage-time goals to defeat Panama 3-2.
The US victory torpedoed Panama's dream of qualifying for the World Cup for the first time, while helping Mexico finish fourth in the CONCACAF regional group and secure a two-leg playoff against Oceania champions New Zealand next month.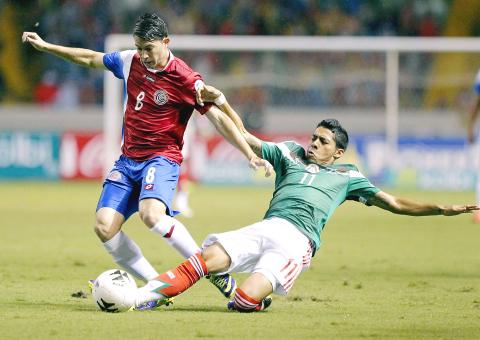 Javier Aquino of Mexico, right, battles for the ball with Bryan Oviedo of Costa Rica in their FIFA World Cup qualifying match at the Estadio Nacional de Costa Rica in San Jose on Tuesday.
Photo: Reuters
More than a year after Mexico celebrated winning the gold medal at the London Olympics, Mexican media berated El Tri, while running headlines in English to express gratitude to the gringo adversaries they usually disparage.
"Gracias Uncle Sam," "Thank you, USA!" and "God bless America" were some of the front-page headlines hours after the US Soccer Federation had cheekily tweeted "#YoureWelcomeMexico."
The sports daily Record published a digitally altered photograph of Manchester United forward Javier "Chicharito" Hernandez holding a US flag, with the purposely misspelled headline: "We Love You! 'Amigous.'"
The Cancha sports paper said that Mexico's qualifying campaign had been "one of the most shameful performances in its history," adding that the "broken" team played with "no courage."
However, Mexico manager Victor Manuel Vucetich, brought in last month to save the team, insisted he did not have to "send any message" to US counterpart Jurgen Klinsmann, although he praised US "football ethics and professionalism."
Missing out on the World Cup in Brazil next year would be emotional and financial torment for Mexico.
The country has seen its team play in 14 of the past 19 tournaments and last missed it in 1990 because the Mexican Football Federation fielded overaged players in a youth championship.
Sports marketing firm Dreamatch Solutions estimates that local broadcasters, sponsors and other businesses stand to lose US$600 million if Mexico fail to qualify.
Former Mexican president Felipe Calderon, recalling meeting the gold medal winners last year, tweeted: "What happened?"
Shouts of joy were heard in Mexico City bars when the US scored, but fans were angry at their team's performance, especially since some make millions playing for wealthy European clubs.
In 10 qualifiers, Mexico won just twice and scored a paltry seven goals. Mexicans expected better after Raul Alonso Jimenez scored a memorable bicycle-kick on Friday last week to beat Panama.
"The team is worthless. They make a lot of money and do nothing," Angel Hernandez, 30, said at a taco stand in a market.
Across his stall, 40-year-old Ivan Pena sliced jalapeno peppers as he wondered how Mexico could have lost when all they needed was a draw to secure the fourth spot.
"It's to cry for. We barely made it," Pena said. "It's embarrassing. How can we be in the playoff when we had the opportunity to do better?"
In a stand lined with children's socks for sale, Fernando Rosas said having to thank the US "is not gratifying" since "Mexico is supposedly better than the US in football."
Failing to qualify would be "disappointing because we are used to seeing them in the World Cup," Rosas said.
Defeating New Zealand — who drew with then-defending world champions Italy in the 2010 finals in the group stage — will be difficult, he added, "but we hope Mexico win for their own good and for the good of all Mexicans."
Comments will be moderated. Keep comments relevant to the article. Remarks containing abusive and obscene language, personal attacks of any kind or promotion will be removed and the user banned. Final decision will be at the discretion of the Taipei Times.