Briton becomes first woman to row Japan-Alaska route
A 28-year-old British adventurer became the first woman to row solo from Japan to Alaska, arriving late on Monday at a small town in the Aleutian Islands after 150 days at sea.
"I have had some of the most intense and memorable months of my life out on the Pacific, it has been brilliant and brutal at the same time," Sarah Outen said in a statement. "And it has been a privilege."
Outen celebrated with a bottle of champagne in Adak, Alaska, and greeted community members and supporters — her first human contact in nearly five months — as first reported by the Anchorage Daily News.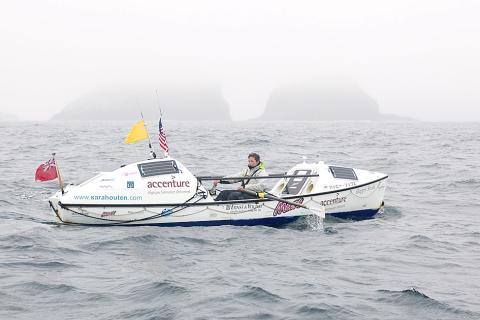 British adventurer Sarah Outen arrives in Adak in the Aleutian Islands on Monday to become the first woman ever to row solo from Japan to Alaska.
Photo: REUTERS
The Brit left Choshi, Japan, on April 27 and was at sea for 6,034km. The journey is a stage in her plan to complete a global trek on an ocean-rowing shell, kayak and bike.
"I have pushed myself to my absolute limits both physically and mentally to make land here in Alaska, and [my] body and mind are now exhausted," she said.
On Monday afternoon, Outen came within 800m of the Alaskan shore before winds and currents started pushing her onto the rocks. Her support team decided it was safer to tow her into Adak's small harbor.
On the row, she battled dangerous seas and her boat, Happy Socks, capsized five times. She also fought the psychological battle of being alone.
In the last few days, she almost hit a cargo ship after her radar failed, all the while battling cooling temperatures and increasing darkness.
Outen also tweeted about whiteout fog and exhaustion-induced hallucinations in the final, treacherous kilometers to Adak, the newspaper reported.
However, for Outen, who has a biology degree from Oxford University, seeing wildlife like albatross and whales made up for all the uncomfortable moments.
According to the statement, the highlight of the journey was a shark circling her as she rowed.
Along the way, she also got engaged to her longtime girlfriend back home during a satellite telephone call from the middle of the ocean.
She had initially planned to row from Japan to Canada, but the punishing weather made her change course to Alaska.
Next spring, she plans to return to Adak with a teammate, Justin Curgenven, to continue the kayak trip to mainland Alaska. She will then bike across Canada and North America before attempting a solo row across the Atlantic to the UK.
Outen's first attempt at the crossing ended last year when she and another ocean rower had to be rescued near Japan after their boats were badly damaged in a storm.
Before that, Outen became the youngest person and the first woman to row alone across the Indian Ocean in 2009, going from Australia to Mauritius.
Comments will be moderated. Keep comments relevant to the article. Remarks containing abusive and obscene language, personal attacks of any kind or promotion will be removed and the user banned. Final decision will be at the discretion of the Taipei Times.