Triumphant delegation returns to roll up sleeves
Triumphant Tokyo Governor Naoki Inose returned home to the cheers of thousands yesterday, thanking everyone for the support that brought the 2020 Olympic Games to Japan and vowing to get down to work to make them successful.
Welcomed back by a brass band and a crowd gathered in front of the futuristic Tokyo Metropolitan Government building lit up in the Olympic colors as dusk fell, Inose said Tokyo's success in its bid to host the Games for a second time was due to the enthusiasm at home.
"The voices and yells of support from Japan were heard in Buenos Aires and that's what led to our getting the Games," he said.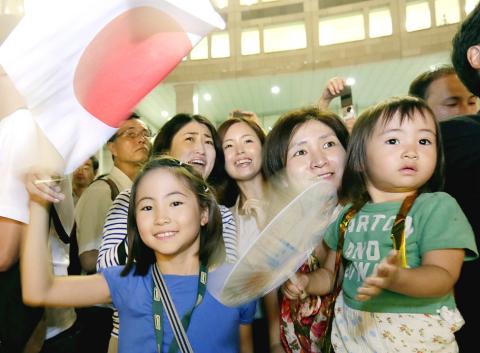 People celebrate at the Tokyo Metropolitan Government office plaza yesterday as the Tokyo Metropolitan Government held a welcoming ceremony for the 2020 Olympic Games bidding delegation on their return from Buenos Aires.
Photo: EPA
However, later he told a news conference that now the city would have to get down to work to prepare for the world's greatest sports extravaganza only seven years in the future.
"We need to make the 2020 Games the best ever," he said. "So every Tokyo citizen needs to join together, with each person doing what they can according to their abilities."
Comments will be moderated. Keep comments relevant to the article. Remarks containing abusive and obscene language, personal attacks of any kind or promotion will be removed and the user banned. Final decision will be at the discretion of the Taipei Times.