Wang Chien-ming's major league career may be all but over
Wang Chien-ming's poor start for the Toronto Blue Jays on Saturday may have marked the end of the Taiwanese right-handed pitcher's major league career as the Blue Jays designated him for assignment on Monday.
The club must decide in 10 days whether to release him or send him back to the Triple-A Buffalo Bisons, but Wang is also free to be picked up by another team.
The move was not unexpected because Wang had been called up for one start to fill a gap in Toronto's rotation, but the former Yankee made the Blue Jays' decision an easy one.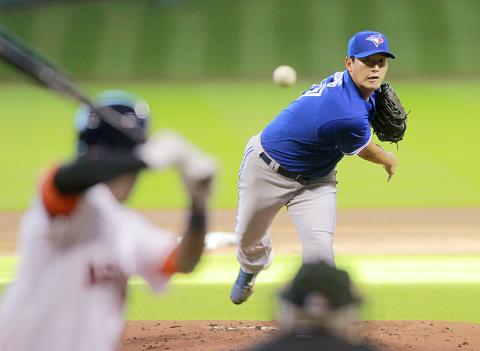 Toronto Blue Jays pitcher Wang Chien-ming of Taiwan delivers a pitch to L.J. Hoes of the Houston Astros in the first inning of their American League game in Houston, Texas, on Saturday.
Photo: Reuters
Against the Astros in Houston on Saturday night, the 33-year-old had trouble locating his pitches and he uncharacteristically allowed more fly balls than ground balls because his sinker had no sink.
He retired the side in order in the first inning, but gave up five runs over the next two innings, including two on a two-run homer by Jason Castro in the third, before being removed.
Though Wang's secondary pitches showed improvement, his flat sinker, mediocre velocity (he rarely hit 145kph) and difficulties during his stint with Toronto earlier this year make it unlikely that another major league team will be interested in him.
Wang said through his agent that he was willing to be sent back to the Triple-A team and wait for another chance next month, consistent with his long-stated desire to remain in the US and shine again for a major league team.
Wang was first signed by the Blue Jays in June when a number of their starters were on the disabled list.
He showed promise during his first three starts, allowing six earned runs in 20-2/3 innings, but he was then knocked out in the second inning of his next two games against the Boston Red Sox and the Detroit Tigers, before being sent down to Toronto's Triple-A club.
Overall, he is 1-2 in six starts for the Blue Jays this season with a 7.67 ERA.
Wang starred with the New York Yankees from 2005 to 2008, going 54-20 with a 3.79 ERA, before suffering an injury to his foot while running the bases in Houston on June 15, 2008.
He was ineffective while trying to recover from the foot injury in 2009 and hurt his arm, ending his career with the Yankees, and he never regained his peak form in a comeback attempt with the Washington Nationals in 2011 and last year, or with the Blue Jays this year.
Comments will be moderated. Keep comments relevant to the article. Remarks containing abusive and obscene language, personal attacks of any kind or promotion will be removed and the user banned. Final decision will be at the discretion of the Taipei Times.