Emirates New Zealand boss claims Oracle cheated
The head of America's Cup challenger Emirates Team New Zealand has accused defending champion Oracle Team USA of cheating in the latest controversy in sailing's premier regatta.
Oracle Racing last week admitted it modified its boats without permission of the Measurement Committee during four regattas in the America's Cup World Series (ACWS), a warm-up to this year's regatta. Those regattas were sailed in 45-foot (13.7m) catamarans, which were prototypes of the 72-foot catamarans being sailed this summer in the America's Cup.
"You can't actually get to any other point than the fact they were cheating," Emirates Team New Zealand managing director Grant Dalton told the San Francisco Chronicle on Tuesday.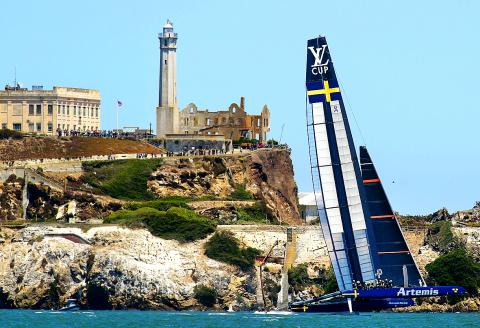 Sweden's Artemis passes Alcatraz Island, San Francisco, in the Louis Vuitton Cup semi-final race against Italy's Luna Rossa on Saturday.
Photo: Reuters
The international jury is investigating and could punish Oracle with a fine, forfeiture of races or disqualification from the America's Cup.
Any punishment would be another smudge on an already troubled regatta.
The best-of-17 America's Cup match begins on Sept. 7 between Oracle and the winner of the Louis Vuitton Cup for challengers.
Emirates Team New Zealand faces Italy's Luna Rossa in the best-of-13 Louis Vuitton Cup final starting on Saturday.
Oracle Team USA chief executive Russell Coutts admitted last week that someone with the syndicate illegally placed weights in the bows of all three of its 45-foot catamarans during the America's Cup World Series, without the knowledge of management.
Coutts said it was "a ridiculous mistake" because the weights "didn't affect the performance."
Oracle forfeited its victories in four ACWS regattas and the two overall ACWS season championships.
Dalton disputed Coutts' contention that the weights did not affect the boats' performance.
"Why would you actually do it, if it didn't make a difference?" he asked.
The violations were not found until July 26, when the boats were tested ahead of the Red Bull Youth America's Cup later this month.
Earlier this year, Dalton criticized Oracle Corp CEO Larry Ellison, who owns Oracle Team USA, for offering a grand vision of the America's Cup that has failed to materialize. While Ellison and other organizers once projected a dozen or so challengers, only three made it to the trials, mostly because of the steep cost of running a campaign.
One of those challengers, Artemis Racing, suffered a crippling blow when its first catamaran capsized on May 9, killing crewman Andrew "Bart" Simpson and destroying the boat.
Artemis missed the Louis Vuitton Cup round-robins and was swept in four races by Luna Rossa in the semi-finals.
Comments will be moderated. Keep comments relevant to the article. Remarks containing abusive and obscene language, personal attacks of any kind or promotion will be removed and the user banned. Final decision will be at the discretion of the Taipei Times.