PGA: Dufner beats Furyk to win his first major title
Equipped with a two-shot lead at the turn and still carrying a few scars from his PGA Championship collapse two years ago, Jason Dufner never showed signs of cracking.
No one expected anything else from a player whose popularity comes from his flat-line personality.
He merely waved to the gallery when he shot 63 in the second round to tie a major championship record. He did not show much of a pulse on Sunday as he matched scores with Jim Furyk at every hole on the back nine of Oak Hill.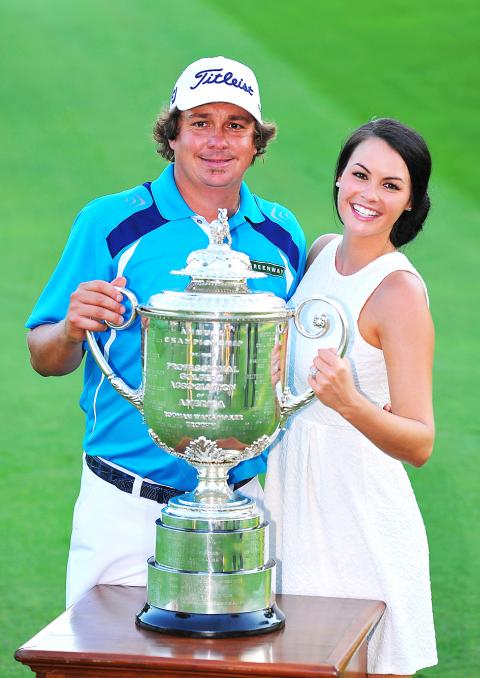 Jason Dufner of the US, left, and his wife, Amanda, pose with the Wanamaker Trophy after his two-stroke victory at the PGA Championship at Oak Hill Country Club in Rochester, New York, on Sunday.
Photo: AFP
Only after Dufner tapped in for a bogey on the 18th hole to win the PGA Championship did he crack a smile, raise both arms and give a slight pump of the fist, saving all that emotion for a grand occasion.
Dufner cannot think of any other sportsman who plays with so little emotion.
"But those sports are a little more exciting — big plays in basketball, home runs in baseball, big plays in football. That will get you pumped up," he said. "For me, golf is a little bit more boring. I hit it in the fairway or I didn't. Usually I'm struggling with the putter, so there's not too much to get excited about with that."
His name on the Wanamaker Trophy?
That was worth a smile.
"Nobody can take that away from me," Dufner said after he closed with a two-under 68 for a two-shot win over Furyk. "It's a great accomplishment for me and I'm really excited about it."
Dufner was not sure he would get another chance after the PGA Championship two years ago in Atlanta, Georgia, where he blew a four-shot lead with four holes to play and lost in a playoff to Keegan Bradley, but he was not about to let this one get away.
Dufner won by playing a brand of golf that matches the bland expression on his face. It was not exciting. It did not need to be.
Dufner finished the front nine with six straight one-putt greens, and then delivered a steady diet of fairways and greens. He putted for birdie on every hole on the back nine until the last hole. He calmly rolled a 10-foot par putt toward the cup and tapped it in.
"There's not much to celebrate from six inches or less, but it was nice to have that short of a putt," he said. "It was a perfect ending for me."
The turning point at Oak Hill was the final two holes — on the front nine.
Dufner made a short birdie on the eighth hole to take a one-shot lead and Furyk made bogey on the ninth hole to fall two shots behind.
Furyk, a 54-hole leader for the second time in as many years in a major, could not make up any ground with a procession of pars along the back nine. He finally made a 12-foot birdie putt on the 16th, but only after Dufner spun back a wedge to 18 inches for a sure birdie.
Furyk also made bogey on the last two holes, taking two chips to reach the 17th green and coming up short into mangled rough short of the 18th green, where all he could do was hack it onto the green. Furyk closed with a 71 to finish two shots behind.
"I have a lot of respect for him and the way he played today," Furyk said. "I don't know if it makes anything easy, or less easy, but I don't look at it as I lost the golf tournament. I look at it as I got beat by somebody that played better today."
Dufner finished at 10-under 270, four shots better than the lowest score in the five previous majors at Oak Hill. Jack Nicklaus won the 1980 PGA Championship at 274.
Henrik Stenson, trying to become the first Swede to win a men's major title, pulled within two shots on the 13th hole and was poised to make a run until his tee shot settled on a divot hole on the 14th fairway. He chunked that flip wedge into a bunker and made bogey, closing with a 70 to finish alone in third.
In his last three tournaments Stenson has two runner-ups and a third.
Jonas Blixt, another Swede, also had a 70 and finished fourth.
Masters champion Adam Scott never made a serious move and shot 70 to tie for fifth. Defending champion Rory McIlroy made triple-bogey on the fifth to lose hope, though he still closed with a 70 and tied for eighth, his first top 10 in a major this year.
Dufner two-putted for bogey on the 18th from about 10 feet and shook hands with Furyk as if he had just completed a business deal. He hugged his wife, Amanda, and gave her a love tap on the bottom with the cameras rolling.
Asked if he had ever been nervous, she replied: "If he has been, he's never told me."
That is what gives Dufner is own personality on the PGA Tour. He did not look any differently on the opening tee shot than when he stood on the 18th hole.
"I would say I was pretty flat-lined for most of the day," he said.
Dufner became the sixth player to win a major with a round of 63, joining Tiger Woods, Greg Norman, Raymond Floyd, Nicklaus and Johnny Miller.
He is the third first-time major champion of the year and the 15th champion in the past 19 majors who had never won the big one.
Woods is responsible for the trend, mainly because he is not winning them at the rate he once was.
Woods extended his drought to 18 majors without winning and this time he was not even in the hunt. For the second straight round, Woods finished before the leaders even teed off. He closed with a 70 to tie for 40th, 14 shots off the lead.
"I didn't give myself many looks and certainly didn't hit the ball good enough to be in it," Woods said.
Comments will be moderated. Keep comments relevant to the article. Remarks containing abusive and obscene language, personal attacks of any kind or promotion will be removed and the user banned. Final decision will be at the discretion of the Taipei Times.