Suarez went against the Reds' values, Rodgers says
Liverpool manager Brendan Rodgers said striker Luis Suarez has gone against the values of the club after he publicly accused Rodgers of not honoring a promise to allow him to leave.
Suarez, who is being chased by Premier League rivals Arsenal, said in a newspaper interview that Rodgers had given his word that the Uruguayan would be sold if Liverpool did not qualify for the Champions League.
"My conversations with players will always remain private. I'll never disclose any conversation between a player and I," Rodgers said in Oslo after his side's 4-1 friendly victory over Valerenga.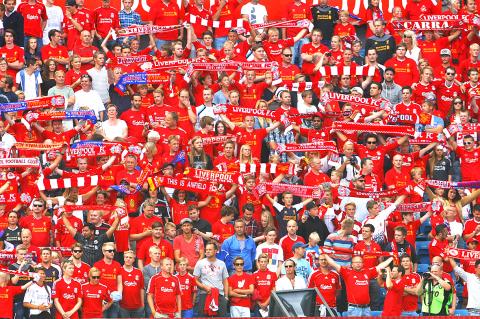 Liverpool supporters sing before the friendly match between Valerenga and Liverpool in Oslo, Norway, on Wednesday.
Photo: AFP
"In terms of the remarks that were made, this is a football club that has always worked a certain way," he said. "The Liverpool way is all about a club with ambition, a club that strives to be the very best, a club that is about commitment — that means that everyone is committed to the cause of fighting for the shirt. It's also about dignity and being dignified in how you speak about the club, on and off the field, it's about unity."
"Those are the four values that run through my mind when I think about Liverpool. Those are the values we will always retain. If anyone steps outside of that standard, I will deal with it. That's something that we'll do," he added.
Suarez's future has been under scrutiny since the end of the season, in which he scored 29 goals in all competitions. Arsenal offered just more than £40 million ($62.03 million) for the striker, although Liverpool have maintained that Suarez is not for sale.
Suarez's stand-off with the club has overshadowed an encouraging preseason for Liverpool, who have won six out of six friendlies, but Rodgers said the striker's situation would not affect the club's preparations.
"There will never be any player or person bigger than the club," Rodgers said. "Professionally, Luis Suarez has given me everything since I came into the football club, but there is obviously a way in which you have to speak."
Suarez, said he might even approach the Premier League.
"Liverpool is a club with a reputation for doing things the right way, I just want them to abide by the promises made last season," Suarez, who is desperate to play in the Champions League, said in the Daily Telegraph. "I have the club's word and we have the written contract, and we are happy to take this to the Premier League for them to decide the case, but I do not want it to come to that."
Comments will be moderated. Keep comments relevant to the article. Remarks containing abusive and obscene language, personal attacks of any kind or promotion will be removed and the user banned. Final decision will be at the discretion of the Taipei Times.