Lin, Lee reach world badminton quarter-finals
China's badminton superstar Lin Dan made it through to the quarter-finals of the world championships yesterday, with arch rival Lee Chong Wei also booking a place.
"Super Dan" made a shaky start against Malaysian Chong Wei Feng, who surged to a 7-2 lead in the first game of their third-round match.
Defending champion Lin, who had not been stretched in his first two matches, came under pressure from 15th seed Chong and was forced to dive around the court as his opponent found all the angles.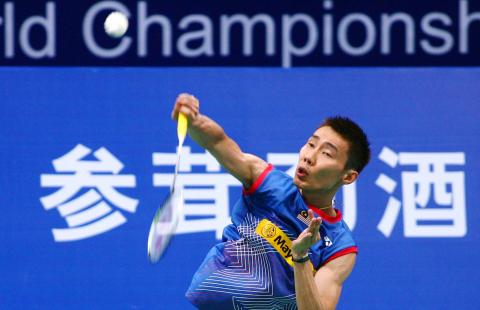 Malaysia's Lee Chong Wei hits a return during his third-round singles match against China's Wang Zhengming at the Badminton World Championships in Guangzhou yesterday.
Photo: Reuters
Lin vented his frustration, talking to himself and hitting his head with his racket in the first game after he sent a shot wide.
"I didn't have a good start today because we had only played two matches before and I wasn't used to his style and tactics," Lin told reporters after the match.
"For the first 11 points he had a lot of confidence and that created problems for me, but I found a way to adjust and got back into the match," the Chinese player said.
The Olympic champion, who has been on the sidelines for the past year to spend time with his family and entered the tournament on a wild-card, eventually took the first game 22-20 after Chong saved two match points.
Lin pumped his fist as the crowd roared his name, and the hard-fought game saw line judges repeatedly called on to court to mop up perspiration.
A more relaxed Lin went on to dominate the second game, taking it 21-10 as the Malaysian lost his confidence and made more errors.
Fans are hoping for another classic showdown between 29-year-old Lin and world No. 1 Lee Chong Wei of Malaysia, who sealed a convincing 21-12, 21-7 win against 14th seed Wang Zhengming of China.
Lee put in a powerful performance against a tenacious opponent, in contrast to his nervy second-round struggle.
He unleashed smashes which Wang was unable to reach, placed precision shots and defended with lightning reflexes.
"This match was much better than the previous two — my pace was faster and there were fewer errors," Lee told reporters.
Lee, 30, comes into the championships off wins in South Korea, Indonesia, India and Malaysia. He is hoping to break a run of losses against Lin, who beat him in the last two Olympic finals and the previous world championships final.
Lin will take on teammate Chen Long in the pick of the quarter-finals — Chen, 24, is the current All-England champion and world No. 2 — while Lee will meet Indonesia's Tommy Sugiarto, ranked eighth.
Chen beat Malaysia's Daren Liew 21-18, 21-15 in his third- round match while Sugiarto won 21-19, 21-14 against Marc Zweibler from Germany.
The women's singles third round saw the shock exit of reigning world champion and second seed Wang Yihan of China, who was outpaced by Indian 18-year-old P.V. Sindhu, ranked 10th.
Sindhu took the match 21-18, 23-21 after some titanic rallies in the third game which left Wang looking exhausted.
Taiwanese No. 6 seed Tai Tzu-ying beat Linda Zetchiri of Bulgaria 21-13, 21-16, while Spain's unseeded Carolina Marin had the crowd on their feet after a spectacular win over fifth seed Sung Ji-hyun from South Korea, taking the match 13-21, 21-13, 22-20.
No. 1 seeds South Korea's Ko Hyun-sung and Lee Yong-dae also crashed out of the men's doubles third round. They lost 21-14, 14-21, 19-21 to Lee Sheng-mu and Tsai Chia-hsin of Taiwan, ranked 13th, in a frenetic match which raised the roof at the Tianhe gymnasium.
Additional reporting by staff writer
Comments will be moderated. Keep comments relevant to the article. Remarks containing abusive and obscene language, personal attacks of any kind or promotion will be removed and the user banned. Final decision will be at the discretion of the Taipei Times.