MLB: Pair of homers give Reds 4-1 win over Pittsburgh
MAJOR LEAGUES
Cincinnati's Zack Cozart and Todd Frazier hit upper-deck homers to power the Reds to a 4-1 win over Pittsburgh on Monday, moving a game-and-a-half clear of the Pirates and to a season-best 15 games over .500.
Cincinnati hit four solo homers in all, extending their best start since 1995 — the last time they won a playoff series.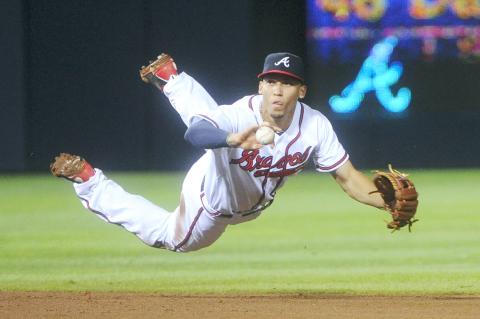 Atlanta Braves shortstop Andrelton Simmons throws a ground ball to second base to force out the New York Mets' John Buck in their game on Monday.
Photo: AFP
Cozart connected in the fourth and Frazier in the sixth off Francisco Liriano (5-3), who had not allowed a homer in his seven previous starts.
In Arlington, Texas, the Rangers ended a six-game losing skid by beating Oakland to close the gap in the race for the American League East Division crown.
Nelson Cruz homered twice as the Rangers edged Oakland 8-7, moving within two games of the Athletics atop the AL West.
Cruz's second homer was a two-run shot in the fifth and he added a run-scoring double in the seventh.
A.J. Pierzynski drove in three runs as Texas snapped a six-game losing streak — all at home — in which they only scored eight runs.
Meanwhile, Detroit pitcher Max Scherzer improved his record to 10-0 in the Tigers' 5-1 win at home over Baltimore.
Scherzer became the first pitcher to begin a season 10-0 — with all decisions coming in starts — since Roger Clemens went 11-0 for Toronto in 1997, according to STATS. He allowed one run in six innings.
Miguel Cabrera hit a two-run homer for Detroit, while Baltimore's Chris Davis hit his Major League-leading 24th homer of the season.
In Missouri, St Louis rookie Shelby Miller pitched five shutout innings to guide the Cardinals to a 5-2 win over the Chicago Cubs.
Miller (8-4), who had to wait out a rain delay of 1 hour, 59 minutes to start the game, left due to cramping in his right leg.
Yadier Molina had a two-run double for St Louis.
At AT&T Park in San Diego, California, the Padres won their seventh straight by downing San Francisco 5-3 over 13 innings.
Will Venable made an incredible game-saving catch in the 12th inning, allowing pinch-hitting pitcher Andrew Cashner to drive in the go-ahead run in the 13th.
Venable's diving grab on the center-field warning track with his back to home plate ended the 12th and stole a game-winning hit from Juan Perez.
Moments later, Alexi Amarista started the winning rally with a single and went to third on Chris Denorfia's single. Cashner came up to face Jose Mijares (0-1) and dropped a bunt single between the mound and third base for his sixth career hit and second RBI.
In Toronto, the Jays' winning streak reached six with a 2-0 victory over Colorado.
Toronto's Maicer Izturis hit a two-run single in the eighth inning for the only score of the game.
Rajai Davis singled to start the eighth-inning rally, just the second hit of the game for the Blue Jays.
In Philadelphia, Pennsylvania, Domonic Brown hit an RBI single with two outs in the bottom of the ninth inning to give the Phillies a 5-4 win over Washington.
In Cleveland, Ohio, Kansas City pinch-runner Elliot Johnson scored from third base on a wild pitch by reliever Matt Albers in the ninth inning, giving the Royals a 2-1 win over the Indians.
Freddie Freeman hit a two-run homer in the ninth inning off Dillon Gee, giving the Braves a 2-1 stunning victory at home over the New York Mets in a game that was delayed nearly four hours by rain.
Los Angeles' Albert Pujols had an RBI double among his four hits and Josh Hamilton hit a two-run homer as the Angels pounded out a season-high 21 hits in an 11-3 win over Seattle in California.
Miami's Giancarlo Stanton drove in all three Marlins runs with a pair of homers as the hosts beat Arizona 3-2, handing the Diamondbacks a fourth straight loss.
In Houston, Texas, Chicago's Dayan Viciedo hit a bases-loaded triple in the sixth as the White Sox beat Houston 4-2 to avoid their first four-game sweep since 2008.
Comments will be moderated. Keep comments relevant to the article. Remarks containing abusive and obscene language, personal attacks of any kind or promotion will be removed and the user banned. Final decision will be at the discretion of the Taipei Times.