Nibali wins uphill time trial to open a four-minute lead
Italy's Vincenzo Nibali took a major step toward overall victory in the Giro d'Italia on Thursday after powering to his first stage win at this year's race in an individual uphill time trial.
Nibali more than doubled his overnight advantage over his closest overall pursuer, Australia's Cadel Evans, from 1 minute, 26 seconds to a more solid margin of 4:02. Colombia's Rigoberto Uran remained third, 4:12 back.
The last rider to start stage 18, the Astana rider surged home through to teeming rain on the 20.6km time trial from Mori to Polsa, Italy, to beat Spaniard Samuel Sanchez by 58 seconds. Italy's Damiano Caruso was third, Uran finished sixth, while Evans slumped to 25th, 2:36 back.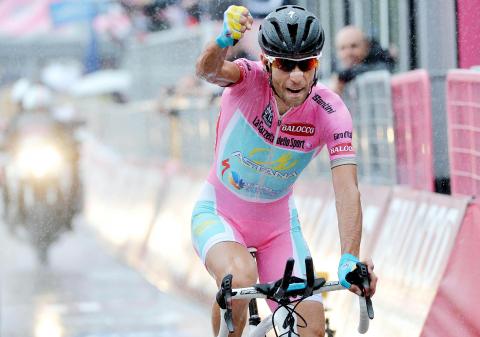 Overall race leader Italian Vincenzo Nibali of Astana celebrates as he crosses the finish line to win the 18th stage of the Giro d'Italia in Polsa, Italy, on Thursday.
Photo: EPA
"This is my first stage win here in 2013, and I and the team wanted to get this victory badly, I wanted to leave my mark on the stage wins as well as on the overall," said Nibali, who has finished second and third in previous Giros. "These are really important advantages, it means I can take things more easily and so can my team. We can ride more calmly now."
The fastest at the mid-stage checkpoint by 32 seconds, Nibali's only blip was when he swerved late on one rain-sodden curve which appeared to slow him down.
"I felt good this morning even when I was doing a recon of the stage, so I thought I would be in good shape," he said. "When the rain started, I had to be careful on the corners because I had high tire pressure so I wouldn't slip."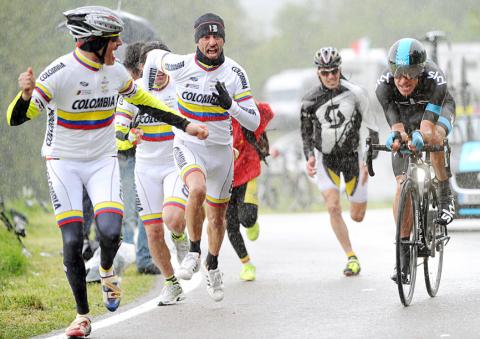 Colombia's Rigoberto Uran of Sky Pro Cycling rides in the 18th stage of the Giro d'Italia, an individual time trial from Mori to Polsa, Italy, on Thursday.
Photo: EPA
Nibali admitted that he was surprised with the lead he had managed to open up over Evans.
"I was surprised that Evans wasn't in such good shape," the Italian said. "I didn't know what his condition really was, he's been there or thereabouts throughout the stages, but I thought he would do better today. He was my big reference point today, when I saw I was gaining time on him, I pushed even more."
Yesterday's 19th stage was canceled due to snow along the route, leaving just one more difficult leg for Nibali to navigate.
Organizers said there were "adverse weather conditions and, in particular, snow on the stage route in its entirety."
The 19th stage in the 21-leg race had already been altered because of avalanche threats and sub-zero temperatures. With snow and ice predicted, the Gavia and Stelvio passes were cut from the route.
"The organizers have put the security of riders first and the UCI supports their decision," said Pat McQuaid, president of the international cycling federation. "The riders have been racing in very difficult conditions this week, but today those conditions are just too extreme."
"It seems like a fair decision," Uran said. "Being this cold, it's really impossible to bike."
Stage 20 today is another mountainous leg that is scheduled to follow a 203km route from Silandro to Tre Cime di Lavaredo, Italy, but it is also risks being canceled due to snow.
The race ends on flatter ground in Brescia tomorrow.
Also yesterday, former Giro winner Danilo di Luca tested positive for EPO in a surprise test at his home before this year's race, organizers announced.
If confirmed in a backup "B" sample, Di Luca risks a lifetime ban since it would be his third offense. The UCI provisionally suspended Di Luca pending a hearing with the Italian cycling federation.
The 37-year-old Italian rides for the Vini Fantini-Selle Italia team.
The test was carried out on April 29, five days before the Giro started, and the result drew a harsh rebuke from Vini Fantini team director Luca Scinto.
"Di Luca is an idiot. I never wanted him," Scinto said. "Di Luca is sick. He needs to be helped."
Seemingly headed for retirement just a few months ago, Di Luca signed with Vini Fantini on April 26. Scinto and others were against hiring him, but the sponsors eventually prevailed.
Di Luca was 26th overall, 33:33 behind Nibali.
In 2009, Di Luca was given a two-year ban after testing positive during the Giro for CERA, an advanced form of the blood booster EPO. That ban was subsequently reduced by nine months after he collaborated with Italian anti-doping authorities.
Di Luca was stripped of his second-placed finish and two stage wins in the 2009 Giro.
Comments will be moderated. Keep comments relevant to the article. Remarks containing abusive and obscene language, personal attacks of any kind or promotion will be removed and the user banned. Final decision will be at the discretion of the Taipei Times.