Red Wings push Blackhawks to brink
UNHAPPY HAWKS: Chicago are staring at a 3-1 series deficit, while Los Angeles Kings goalie Jonathan Quick made 24 saves in his seventh career playoff shutout
The Detroit Red Wings beat the Chicago Blackhawks 2-0 on Thursday to take a 3-1 lead in their NHL Eastern Conference semi-final series and put the team that dominated the regular season on the brink of a premature elimination.
In the day's other playoff games, the New York Rangers edged the Boston Bruins 4-3 after overtime to stay alive in their series and cut the deficit to 3-1, while the Los Angeles Kings beat the San Jose Sharks 3-0 to go up 3-2 in that series and boost their hopes of back-to-back Stanley Cup titles.
Detroit's Jakub Kindl put the Red Wings ahead on a power play in the second period and Daniel Cleary had an empty-net goal as the Blackhawks went down to their first three-game losing skid all season.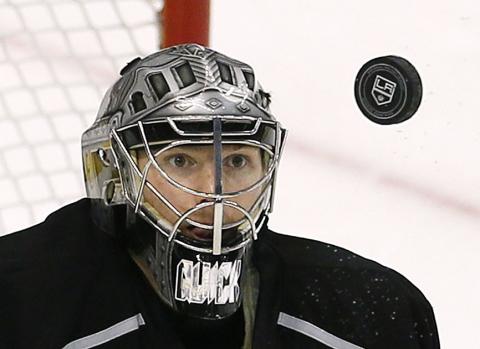 Los Angeles Kings goalie Jonathan Quick keeps his eyes on the puck as he makes a save against the San Jose Sharks in the second period of Game 5 of their NHL Western Conference semi-final series in Los Angeles, California, on Thursday.
Photo: Reuters
The Blackhawks had a power play with 4 minutes, 45 seconds left in the game when Kindl was called for hooking, but they could not tie the game.
Game 5 is today in Chicago and no one wants a victory more than Blackhawks captain Jonathon Toews, who could not find a way past Detroit goalie Jimmy Howard and at times let his frustration show.
"We've got to find a way to force a Game 6," Toews said.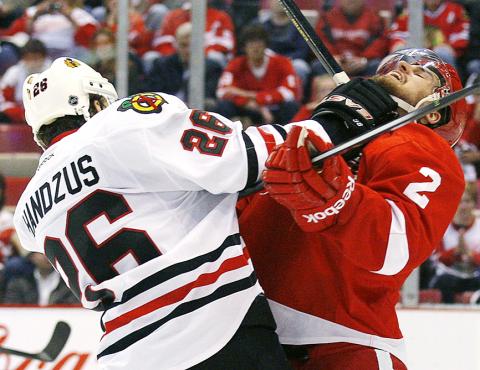 Brendan Smith of the Detroit Red Wings, right, takes a hit from Michal Handzus of the Chicago Blackhawks in the second period of Game 4 of their NHL Western Conference semi-final series in Detroit, Michigan, on Thursday.
Photo: Reuters
The Blackhawks desperately need their captain to score again after he extended his goal drought in a composure-crumbling performance.
Toews was called for three penalties in the second period — two for high-sticking — and could have gone to the box a fourth time in the period for slashing Red Wings captain Henrik Zetterberg while an official stood between them.
"Emotions run high in some of these games and my stick got a little loose there," he said. "I was playing hard. Sometimes that happens."
New York's Chris Kreider steered in a pass from Rick Nash 7:03 into overtime to give the Rangers victory in their must-win game.
New York, who erased 2-0 and 3-2 deficits in the critical Game 4 matchup in the Eastern Conference semi-finals, will need to win again today in Boston to force a Game 6 back at Madison Square Garden.
The Rangers, who were outshot 40-32, won a faceoff deep in their zone, before Nash rushed the puck up the ice. He stopped above the right circle and fed a hard pass in front that Kreider skated into and tipped past Bruins goalie Tuukka Rask for his first goal of the playoffs.
Los Angeles goalie Jonathan Quick made 24 saves in his seventh career playoff shutout as the Kings downed the Sharks.
Anze Kopitar and Slava Voynov scored, while Jeff Carter added an empty-net goal as the defending Stanley Cup champions won their 13th consecutive home game in dominant fashion.
Antti Niemi stopped 26 shots for the Sharks, who have played more than 96 minutes without a goal since they appeared to be taking control of the series midway through Game 4.
Game 6 is tomorrow at the Shark Tank.
The hosts have won every game in the series and the Kings remain unbeaten at the Staples Center since March 23.
Comments will be moderated. Keep comments relevant to the article. Remarks containing abusive and obscene language, personal attacks of any kind or promotion will be removed and the user banned. Final decision will be at the discretion of the Taipei Times.