Manchester United claim championship of contrasts
Relentless, but often ragged; record-breaking, but seldom ruthless — there have been two quite distinct faces to Manchester United's Premier League championship success.
On one hand, United's dominance of this season's title race has been exceptional.
The 25 wins they accumulated in their first 30 games broke a Premier League record and they have left their rivals trailing to the extent that Chelsea's record tally of 95 points in the 2004-2005 season is now within sight.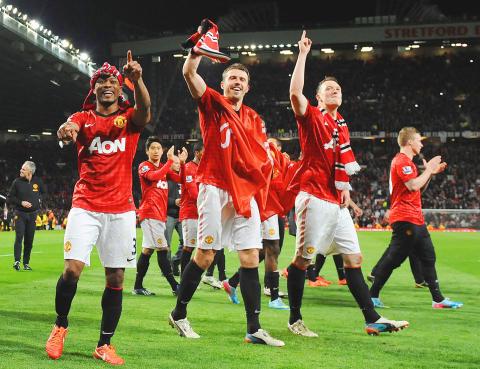 Manchester United players, front from the left, Patrice Evra, Michael Carrick and Phil Jones celebrate winning the title at Old Trafford in Manchester, England, on Monday.
Photo: EPA
They have also scored at a rate of 2.29 goals per game, which makes them more prolific than 11 of manager Alex Ferguson's 12 previous title-winning sides, with the 1999-2000 squad (2.55) the exception.
Yet, the suspicion persists that this is a far from a vintage United team.
Their signature performances have been improbable victories, many snatched with goals in the dying stages of matches, rather than one-sided triumphs over outclassed opponents.
Indeed, United are on course to finish a season without having put five goals or more past an opposition team for the first time since 2005-2006.
There was little dissent when Manchester City manager Roberto Mancini claimed, in the wake of his side's 2-1 win at Old Trafford earlier this month, that the 12-point gap between the sides at the time was not an accurate reflection of the true balance of power.
The narrative that emerges is one of triumph through dogged determination, rather than flashes of inspiration, but United leftback Patrice Evra believes their resilience has been unfairly undersold.
"The funny thing is, because it is Manchester United, people don't give us a lot of credit," Evra said. "Because it is Manchester United, they just say we have escaped. We did not escape. This is character. This is personality. This is why we are here."
Though United have not vanquished adversaries with the devil-may-care abandon of previous Ferguson teams, few English league champions have amassed quite so many heart-stopping last-gasp victories over the course of a season.
Prior to Christmas they seemed particularly impervious to discouragement, winning at Chelsea and City with late goals, rallying from two goals down to win 3-2 at Aston Villa and edging Newcastle United 4-3 with a last-minute Javier Hernandez goal in a thrilling encounter at Old Trafford on Dec. 26.
Ferguson believes his side's hunger for victory took hold as a direct response to the traumatic events of the final day of last season, when United had the league title snatched from their grasp by Sergio Aguero's stoppage-time winner for City against Queens Park Rangers.
"We had a big job to do. The way we lost it, and the fact it was City, gave us an incentive," the United manager said. "You have to admire the focus we have shown this season. We are resilient and the consistency has been good. Like all the previous teams, they never give in. That is a fact. It is the history of the club more than anything. Once they have been here two or three years, the players buy into it. These are the qualities that have helped them to be where they are just now."
United's success has been built on a collective will to win, rather than individual brilliance, although Robin van Persie's 24 goals in his debut season have included some crucial strikes.
David de Gea, Rafael da Silva, Danny Welbeck and, in particular, Michael Carrick have also impressed, but Wayne Rooney's future has been the subject of speculation ever since he was dropped to the bench for the loss to Real Madrid in the UEFA Champions League.
It remains, nonetheless, a young squad, with Hernandez, De Gea, Rafael, Phil Jones, Chris Smalling, Alexander Buttner, Tom Cleverley, Shinji Kagawa, Nick Powell and Welbeck all below 25 years of age.
Ferguson will waste little time looking back at the current campaign. Never one to stand still, he will already be plotting United's assault on title No. 21.
Comments will be moderated. Keep comments relevant to the article. Remarks containing abusive and obscene language, personal attacks of any kind or promotion will be removed and the user banned. Final decision will be at the discretion of the Taipei Times.