Luis Suarez charged for biting by FA
PREVIOUS: In November 2010, Suarez, then of Ajax, was banned for seven matches and dubbed the 'Cannibal of Ajax' after biting PSV Eindhoven midfielder Otman Bakkal
PREMIER LEAGUE
Liverpool striker Luis Suarez was charged with violent conduct by the Football Association (FA) on Monday after his shocking bite on Chelsea defender Branislav Ivanovic.
Suarez sunk his teeth into Ivanovic's right arm during Sunday's 2-2 draw at Anfield in the Premier League.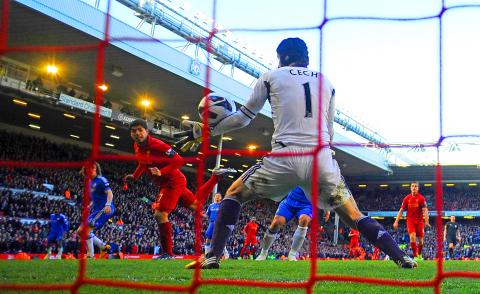 Liverpool's Luis Suarez, third left, scores a late equalizer past Chelsea goalkeeper Petr Cech, front, in their Premier League match at Anfield in Liverpool, England, on Sunday.
Photo: AFP
A statement released by the FA explained that the incident can be retrospectively reviewed because it was missed by the match officials and hinted that the Uruguayan faces a lengthy ban.
"It is alleged that the conduct of Suarez constitutes violent conduct and it is the FA's contention that the standard punishment of three matches that would otherwise apply is clearly insufficient in these circumstances," the statement read.
Suarez, who was given until 5pm yesterday to respond to the charge, was earlier fined by Liverpool following the incident and asked that the money be donated to the Hillsborough Family Support Group.
The ugly incident has sparked widespread condemnation of Suarez, and both the player and Liverpool were forced to apologize, while Reds manager Brendan Rodgers claimed his star forward's actions were unacceptable, but Suarez will hope giving the money to the families of the 96 Liverpool fans who died in a terrace crush before an FA Cup semi-final at Hillsborough in 1989 will help calm the storm surrounding Sunday's events.
Last Monday's 24th anniversary of the tragedy was marked by a memorial service at Anfield which Suarez and his teammates attended.
"For my unacceptable behavior yesterday the club has fined me today," Suarez wrote on Twitter on Monday.
"I have asked the club to donate the money to the Hillsborough Family Support Group for the inconvenience I have created to the Liverpool fans and to Ivanovic," he wrote
Hillsborough Family Support Group chairperson Margaret Aspinall insisted they would accept the donation, but made it clear she did not approve of Suarez's behavior.
"It is a nice gesture, but we can't say we are grateful because we would rather him not have done that at all," Aspinall said. "We could refuse to accept it, but it is going to have to go to someone — and he wants to show respect and remorse to the families."
Meanwhile, some pundits, including former Liverpool captain and manager Graeme Souness, believe it could be time for the club to cut ties with Suarez, as he is damaging their reputation.
Suarez's latest controversy forced Liverpool managing director Ian Ayre to cancel a trip to Australia and the Far East to deal with the fallout, but Ayre was adamant Liverpool would not bow to outside pressure to sell Suarez at the end of the season.
"It affects his future in the sense that we have to work with him on his discipline — but Luis is a very important player to the club," Ayre told Liverpool's Web site. "As we keep saying, he signed a new four-year contract last summer and we'd all love to see him here throughout that contract. He's a fantastic player, top scorer and everything we'd want in a striker, so there's no change there. This is more about getting him back on the right track and it's largely down to [manager] Brendan [Rodgers] now to work with him on that side of his character."
Suarez has a long list of previous misdemeanors even before joining Liverpool from Ajax in January 2011 and it is not the first time he has been in trouble for biting.
However, responding to calls for Suarez to be kicked out of English soccer, Professional Footballers' Association chief executive Gordon Taylor revealed the players' union would offer anger management counseling to deal with his temper.
"There is no doubting his football ability, that's why it is so disappointing and embarrassing when he lets himself down," Taylor said. "We have to work hard on anger management now. We have trained counselors in this field, and we will be offering their services to Liverpool and the player to try to improve matters."
In November 2010, Suarez was banned for seven matches and dubbed the "Cannibal of Ajax" after biting PSV Eindhoven's Otman Bakkal.
In December 2011, he was banned for eight matches and fined £40,000 (US$60,000) after being found guilty of racially abusing Manchester United defender Patrice Evra.
Even British Prime Minister David Cameron weighed in with his opinion on the controversy.
"It is rightly a matter for the football authorities to consider," Cameron's spokesman told reporters at a regular briefing. "As part of their consideration, I think it would be very understandable if they took into account the fact that high-profile players are often role models."
Comments will be moderated. Keep comments relevant to the article. Remarks containing abusive and obscene language, personal attacks of any kind or promotion will be removed and the user banned. Final decision will be at the discretion of the Taipei Times.