Bulls bounce back to level series
PLAYOFFS
Determined defense and a gritty performance from Joakim Noah helped the Chicago Bulls notch a 90-82 victory over the Brooklyn Nets on Monday that evened their NBA Eastern Conference playoff series.
The Bulls bounced back from a disappointing Game 1 defeat to knot the best-of-seven first-round series at one game apiece, with Game 3 back in Chicago tomorrow.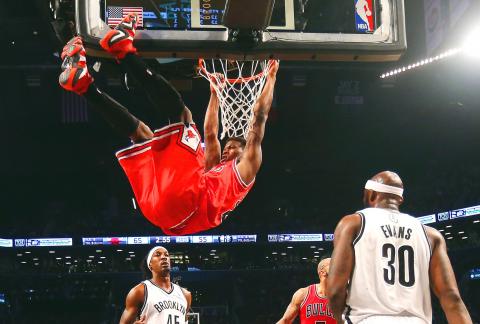 Jimmy Butler of the Chicago Bulls, top, finishes up a slam dunk against the Brooklyn Nets in Game 2 of their NBA playoff series in New York on Monday.
Photo: AFP
Noah, playing restricted minutes after battling painful plantar fasciitis in his right foot, scored nine of his 11 points in the fourth quarter, finishing with 10 rebounds and two blocks as the Bulls bounced back from the 106-89 loss in Game 1 on Saturday.
"He willed it again, and we needed every bit of it," Bulls coach Tom Thibodeau said of Noah, who played just 13 minutes in Game 1. "It's obvious we're a much better team with him on the floor."
Bulls forward Luol Deng added 15 points, 10 rebounds and two blocks, while Carlos Boozer and Kirk Hinrich chipped in 13 points apiece.
Boozer also pulled down 12 rebounds for the Bulls, who connected on 48.1 percent of their shots from the field.
Brook Lopez scored 21 points with three blocks for the Nets, with Joe Johnson adding 17 and C.J. Watson contributing 10, but the Bulls, who displayed an uncharacteristically porous defense in Game 1, limited Brooklyn to just 35.4 percent shooting from the floor.
The Nets, in the playoffs in their first season since moving to the New York City borough of Brooklyn, were trying for their first 2-0 lead in a post-season series since the first round in 2004 — when they swept the New York Knicks.
Nets coach P.J. Carlesimo had warned his players to be ready for a Chicago team determined to rebound after their defeat on Saturday.
"We know what we are going to get from Chicago is what I'm calling desperation, for lack of a better term," Carlesimo said before the game. "We have to meet or exceed that, and that's a big challenge."
In the end, though, the Nets could not meet it.
They made just four of 20 shots from three-point range and committed 12 turnovers that led to 16 Bulls points.
The Nets managed to pull within five points on Reggie Evans' slam dunk with 5 minutes, 45 seconds to play in the third quarter, but Chicago responded with a 9-2 scoring run.
After falling 14 points behind with 10:23 remaining, the Nets reeled off nine straight points to trim the deficit, only for the Bulls to wrest back the momentum with a 7-0 scoring run.
"We did a good job defensively," Deng said. "When the Nets made a run, we did a good job responding with important shots."
Noah started the spurt with a dunk, then grabbed an offensive rebound on Chicago's next possession and passed to Hinrich, who fed to Nate Robinson for a three-pointer.
Noah added a tip-in to give the Bulls an 80-68 lead with less than six minutes remaining.
"I'm happy my foot is holding up," Noah said. "Being able to play in the playoffs is something I'll never take for granted, and being able to do it in front of my loved ones and my family is very special to me."
Comments will be moderated. Keep comments relevant to the article. Remarks containing abusive and obscene language, personal attacks of any kind or promotion will be removed and the user banned. Final decision will be at the discretion of the Taipei Times.