F1 supremo willing to meet Bahraini opposition
MAKING A STAND: Former world champion Damon Hill has criticized the FIA for saying nothing to distance F1 from 'things it would find distasteful and upsetting'
Bernie Ecclestone has assured protesters in Bahrain that he understands their grievances and is willing to meet opposition figures ahead of the most controversial Formula One race of the year this weekend.
However, in comments that could antagonize rights campaigners and pro-democracy activists, the F1 commercial supremo also compared civil unrest in the Gulf island kingdom to threatened protests during today's funeral of former British prime minister Margaret Thatcher in London.
"I'm happy to talk to anybody about this, as I did before," he said in comments to British reporters published yesterday, mentioning that he had met members of the opposition group al-Wefaq last year in London and Bahrain.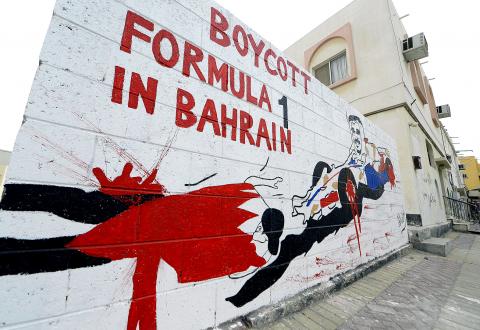 Anti-Formula One graffiti is seen on the streets of the village of Barbar, north of the Bahraini capital of Manama on April 6.
Photo: EPA
"We don't want to see trouble. We don't want to see people arguing and fighting about things we don't understand, because we really don't understand ... Some people feel it's our fault there are problems," he said.
A group of British politicians has written to Ecclestone urging him to cancel the race, which was reinstated to the calendar last year after being called off in 2011.
"I think most democratic-minded people would be appalled if you allowed the Bahrain leg of the Formula One championship to go ahead amidst the most atrocious human rights violations," opposition Labour MP Andy Slaughter wrote.
He wrote on behalf of the All Party Parliamentary Group for Democracy in Bahrain which he chairs and has sent similar letters to Formula One drivers and the sport's sponsors.
Ecclestone has said repeatedly that he has no cause for concern ahead of a race that had to be cancelled in 2011 after an uprising and bloody government crackdown. It went ahead last year against a backdrop of petrol bombs and teargas.
If some of his past comments have been interpreted as making light of the unrest, the 82-year-old British billionaire made clear on this occasion that he understood both sides of the argument and was not insensitive to the opposition.
sympathetic
"We are extremely sympathetic to them," he said. "Don't forget, I was the one, when we had the apartheid in South Africa, who pulled the race."
Formula One personnel and race drivers have begun arriving in Bahrain after last weekend's grand prix in Shanghai, with protests picking up as the fourth race of the season approaches.
The local Gulf Daily News reported four explosions, including one in Manama's financial center, on Sunday night, with one caused by a gas cylinder placed in a stolen car in the Bahrain Financial Harbour parking area.
A radical opposition group, the Coalition of February 14 Youth, claimed responsibility and warned it would continue similar "operations."
The computer hacker group Anonymous has threatened to target the official Formula One and Bahrain Grand Prix Web sites.
There is a visible police presence in the Bahraini capital Manama and daily clashes, largely unnoticed beyond the region, still erupt between protesters and security forces in a Sunni-ruled country where the Shiite majority complains of discrimination.
Watched by many millions around the world, the grand prix puts Bahrain in the global spotlight — as well as about US$40 million in the F1 coffers in annual hosting fees — and authorities are keen to use it to showcase the country. It also gives opponents an opportunity to highlight their grievances.
little progress
The opposition and government resumed reconciliation talks in February for the first time since 2011, when protests were crushed and at least 35 people died, but little progress has been reported.
The opposition puts the death toll at more than 80.
"I wish they could sort things out," Ecclestone said. "If there are any problems, which there are obviously — people are not making trouble if there are no problems — then they could get it sorted out."
"I don't think the people who are arguing about their position are bad people, and I don't think they're trying to hurt people to make their point," he said.
"We've had all sorts of protesters — look at those complaining about Mrs Thatcher. This happens all the time. People use these things when there is an opportunity," he said.
Ecclestone's comments at least addressed a concern within Formula One that the sport's leading figures risked making the situation in Bahrain worse by appearing uncaring and unaware of the social problems.
Britain's 1996 world champion Damon Hill has criticized the governing FIA for saying nothing to distance the sport from "things it would find distasteful and upsetting."
"I think the vast majority of the people in Formula One would like to say: 'We don't want to come here to make things worse for people. We would like you to enjoy Formula One, we think Formula One's got lots of positive things to offer, but please don't on our behalf round people up and brutalize them,'" Hill said.
Comments will be moderated. Keep comments relevant to the article. Remarks containing abusive and obscene language, personal attacks of any kind or promotion will be removed and the user banned. Final decision will be at the discretion of the Taipei Times.