SBL: Tsai Wen-cheng gets SBL's MVP award
The 2012-2013 Super Basketball League (SBL) season officially ended with the annual awards ceremony that was held at the Gis MOTC Convention Center in Taipei yesterday afternoon.
Tsai Wen-cheng of Pure Youth Construction walked away as the clear winner for the season by claiming the coveted Most Valuable Player (MVP) distinction, along with being named the Championship Final MVP and given a spot on the All-SBL Team.
The soft-spoken forward from National Changhua University of Education, who did not play organized basketball until high school, proved that there is indeed light at the end of the tunnel for those willing to work hard and who are humble enough to continuously learn about the game by establishing himself as one of the elite players in the league.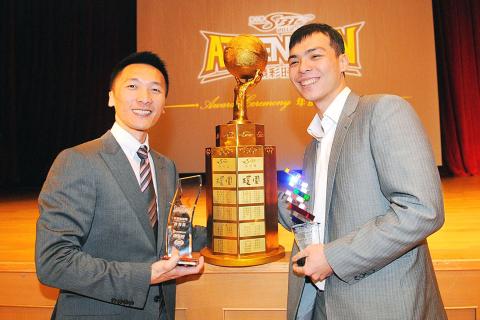 MVP winner Tsai Wen-cheng of Pure Youth Construction, right, poses with his head coach, Hsu Jin-tseh, at the SBL Year End Award Ceremony in Taipei yesterday afternoon.
Photo courtesy of the SBL
"It's an unbelievable honor to receive the award, given the level of competition and the number of great players in the league," Tsai said upon receiving the season's MVP honor.
His outstanding performance earned him the nickname of "local foreign import," meaning that he plays like a hired gun from abroad, even though he was born and raised in Taiwan.
Tsai was not the lone winner from a Builders' squad that featured three other players on the All-SBL Team — Quincy Davis, Doug Creighton and Chen Shih-jeh. Skipper Hsu Jin-tseh also won an unprecedented fourth straight Coach of the Year honor for his back-to-basics approach toward the game that helped his club successfully defend its title.
Rounding out the All-SBL Team was Kinmen Kaoliang's Lin Guan-luen, who also took home the Most Improved Player distinction with a spectacular season in which his point-production nearly tripled over last season's.
The Rookie of the Year distinction was easily won by Bank of Taiwan's Chou Bo-hsun, who made it to the Bankers' starting lineup for nearly the entire season with nearly 26 minutes of floor time, 9.4 points, and 7.2 rebounds per game.
The other winners of awards were:
Top Sixth Man: Keh Chi-hao (Pure Youth Construction)
Top Rebounder: Taylor King (Kinmen Kaoliang)
Top Shot-Blocker: Taylor King (Kinmen Kaoliang)
Top Front-court Defensive Player: Quincy Davis (Pure Youth Construction)
Top Back-court Defensive Player: Chen Chih-chung (Yulon Luxgens)
Top Scorer: Taylor King (Kinmen Kaoliang)
Most Steals per Game: Joseph Taylor (Bank of Taiwan)
Most Assists per Game: Lin Guan-luen (Kinmen Kaoliang)
Comments will be moderated. Keep comments relevant to the article. Remarks containing abusive and obscene language, personal attacks of any kind or promotion will be removed and the user banned. Final decision will be at the discretion of the Taipei Times.