All to play for in Davis Cup ties
Three ties were evenly split at 1-1 after a tense opening day of the Davis Cup quarter-finals on Friday.
Sam Querrey won his first five-set Davis Cup match to help the US draw level with Serbia after world No. 1 Novak Djokovic struck first for the visitors.
Milos Raonic, riding his booming serve, helped Canada square their tie with Italy, who had gone ahead after Andreas Seppi staged a mighty comeback.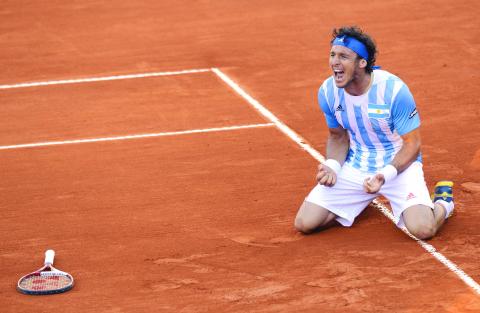 Argentine tennis player Juan Monaco celebrates after defeating France's Gilles Simon in their Davis Cup quarter-final match at Roca Park in Buenos Aires on Friday.
Photo: AFP
Also, Juan Monaco beat Gilles Simon in a duel of world top-20 players to put Argentina level with France in Buenos Aires.
Djokovic successfully blunted the powerful serve of towering American John Isner to win 7-6, 6-2, 7-5 and provide Serbia with the perfect start in Idaho.
However, Querrey battled his way back from a set down to defeat Victor Troicki 7-6 (7/1), 3-6, 4-6, 6-1, 6-4.
"I'm a pretty mellow player generally and the crowd was awesome today," Querrey told reporters.
"Winning that fourth set, they're on their feet and cheering. Then that fifth set, every game on my serve, on Troicki's serve, when it was a 30-all or deuce, they were loud and vocal, and it helped a lot," he said.
Djokovic started off slowly against Isner and was broken in the third game when he double faulted twice, but the tall American handed the break back in the sixth game when he committed three straight unforced errors.
The two went into a tiebreaker where the big serving Isner usually flourishes, but he committed a key forehand error when serving and went down 2-0.
Djokovic successfully rode the lead to take the tiebreaker 7-5.
Djokovic played more aggressively after that and flew about the court, decisively winning the last 12 points of the match.
"These kind of matches are very intense and there is a lot at stake," Djokovic said. "You're playing for your country. You get more involved with the emotions and you really want to start well."
Jo-Wilfried Tsonga overcame Carlos Berlocq 4-6, 6-2, 6-3, 5-7, 6-2 to give France the early lead over Argentina but Monaco, ranked 19th in the world, ensured the tie remained wide open after he won the second singles.
"We have taken one point, we need two more," Argentine captain Martin Jaite said.
Raonic cracked 25 aces to defeat Fabio Fognini 6-4, 7-6 (7/4), 7-5 in Vancouver after Seppi fought back from two sets behind to beat Vasek Pospisal 5-7, 4-6, 6-4, 6-3, 6-3.
Seppi, Italy's top player ranked 18th in the world, kept his nerve, patiently battering away at Pospisil, ranked 140th.
After going up a break in the third set he fended off a break point in the 10th game, holding to take the set.
From there, Seppi was in control against Pospisil, whose 46 unforced errors proved too much to overcome despite the fierce support of a partisan crowd.
Comments will be moderated. Keep comments relevant to the article. Remarks containing abusive and obscene language, personal attacks of any kind or promotion will be removed and the user banned. Final decision will be at the discretion of the Taipei Times.