NBA: Boozer stars as Bulls earn victory over Brooklyn Nets
Carlos Boozer had 29 points and 18 rebounds and Nate Robinson made the go-ahead basket with 22 seconds left as the Chicago Bulls overcame a 16-point deficit to beat the Brooklyn Nets 92-90 on Thursday.
Jimmy Butler had 16 points and 10 rebounds, Luol Deng scored 18 points, and Robinson finished with 12 as the Bulls shook off the absences of five key players to keep the Indiana Pacers from clinching the NBA Central Division title that Chicago have won for the last two years.
Deron Williams had 30 points and 10 assists for the Nets, who had a disappointing return home from an eight-game road trip.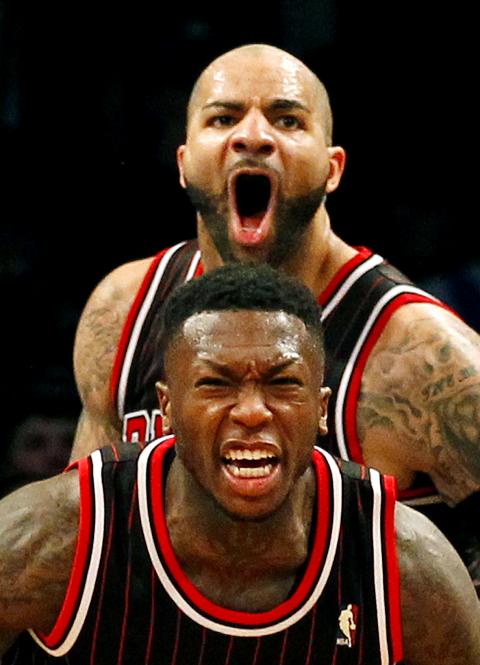 Chicago Bulls point guard Nate Robinson, front, and forward Carlos Boozer react during their game against the Brooklyn Nets in New York on Thursday.
Photo: Rueters
Brook Lopez finished with 28 points, but had a turnover and two misses in the final minute, including a corner jumper that went in and out that would have forced overtime.
Chicago pulled into a tie for fifth place with Atlanta in the NBA Eastern Conference and climbed within one-and-a-half games of the Nets for the No. 4 seed in the NBA playoffs and home-court advantage in the first round.
The Bulls did it without Derrick Rose, Joakim Noah, Taj Gibson, Richard Hamilton and Marco Belinelli, all out with injuries.
The Denver Nuggets edged past the Dallas Mavericks 95-94 for their 19th straight home win, but they may have lost a vital member of their offense heading into the playoffs.
Italian star Danilo Gallinari's left knee buckled inward as he drove to the basket for a layup in the first half.
He grabbed his knee and then sat down on the sideline, writhing in pain, before being helped off the court by reserves Timofey Mozgov of Russia and Quincy Miller. After a few halting steps, he was seated in a wheelchair and taken to the locker room for evaluation.
He was scheduled to have an MRI yesterday.
Gallinari is the Nuggets' second-leading scorer at 16.3 points per game. Their top scorer, Ty Lawson (16.7) is out indefinitely with a tear in his bruised right heel.
Corey Brewer scored 23 points and got a hand on Anthony Morrow's last-second shot to preserve the Nuggets' win.
Brandan Wright scored 16 points to lead Dallas.
Russell Westbrook scored 27 points and Kevin Durant had 25 as the Oklahoma City Thunder seized control of the race for home-court advantage in the Western Conference playoffs with a 100-88 win over the West-leading San Antonio Spurs.
Derek Fisher hit a season-high five three-pointers and had 17 points, his most since joining the Thunder in late February, while fueling a big first-half run that put Oklahoma City ahead to stay.
Oklahoma City still trail San Antonio by a half-game in the standings, but pulled even in the loss column and would control the tiebreaker if both teams won the rest of their games because of a better record against Western Conference opponents.
Kawhi Leonard and Tim Duncan each scored 24 points for the Spurs. French star Tony Parker had just two points in 25 minutes and did not play in the final seven minutes with the game on the line.
The Spurs were again without injured Argentine Manu Ginobili, who is battling a hamstring problem.
Additional reporting by staff writer
Comments will be moderated. Keep comments relevant to the article. Remarks containing abusive and obscene language, personal attacks of any kind or promotion will be removed and the user banned. Final decision will be at the discretion of the Taipei Times.