NBA: Miami score last-minute win against San Antonio
TEXAS THRILLER: The Heat made their winning shot with less than two seconds left, but their win was only sealed after the Spurs' last-ditch try failed
Chris Bosh scored 23 points, including the winning three-pointer with 1.9 seconds remaining, as the Miami Heat beat the San Antonio Spurs 88-86 on Sunday night with LeBron James, Dwyane Wade and Mario Chalmers sitting out due to injuries.
Ray Allen had 14 points, Norris Cole added 13 and Mike Miller 12 for Miami (58-15), who swept the season series with San Antonio (55-18). By earning the head-to-head tiebreaker with San Antonio, the Heat essentially have a four-game cushion with nine remaining for the league's best record and home-court advantage throughout the NBA playoffs.
Tim Duncan had 17 points and 12 rebounds, while Kawhi Leonard added 17 points and 11 rebounds for the Spurs, who had their seven-game home winning streak snapped. Danny Green and Tony Parker added 12 points apiece, while Stephen Jackson had 11.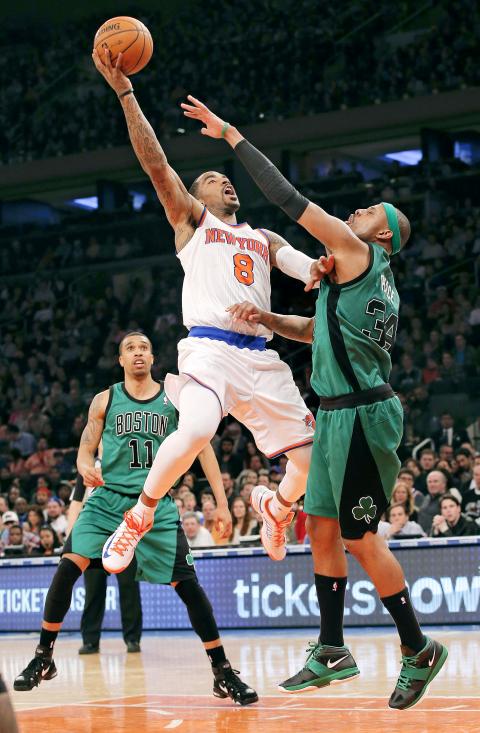 New York Knicks guard J.R. Smith, center, scores over Boston Celtics forward Paul Pierce, right, as Celtics guard Courtney Lee watches in the third quarter of their NBA game at Madison Square Garden in New York on Sunday.
Photo: Reuters
Bosh finished three for five on three-pointers, including the final shot from straightaway in the closing seconds. He yelled after making the shot and celebrated when Parker's shot bounced off the backboard.
KNICKS 108, CELTICS 89
In New York, Carmelo Anthony had 24 points and 10 rebounds as the Knicks extended their winning streak to eight games and moved closer to ending Boston's hold on the Atlantic Division title.
The Knicks beat the Celtics for the second time this week and won the season series for the first time since the 2003-2004 season, when they also went 3-1 against Boston. New York climbed back into a tie with Indiana in the race for the No. 2 seed in the Eastern Conference, which would mean a playoff meeting with the Celtics.
Jeff Green scored 27 points, while Paul Pierce had 24 points and 15 rebounds, as the Celtics had a two-game winning streak snapped. Boston have won the past five division titles since acquiring Kevin Garnett and Ray Allen in 2007.
BULLS 95, PISTONS 94
In Chicago, Illinois, Luol Deng scored 28 points, while Jimmy Butler and Nate Robinson each added 16 as Chicago beat Detroit for the 18th straight time.
Rodney Stuckey scored 25 points and Greg Monroe added 18 points for the Pistons, who have not beaten the Bulls since 2008.
Chicago rallied from a 13-point deficit to tie the score 78-all with 9:27 remaining on Butler's dunk after a steal. Robinson then fed Deng for a layup for an 80-78 lead, the Bulls' first advantage since 1-0.
Deng and Robinson each hit three-pointers to extend the Bulls' lead to 91-84. Stuckey's layup cut Chicago's lead to one with 1 minute, 27 seconds left, before Deng had a layup for a 94-91 lead. Charlie Villaneuva missed a three-pointer with 5.9 seconds left and Daequan Cook made a free throw.
HORNETS 112, CAVALIERS 92
In New Orleans, Greivis Vasquez scored 25 points and Ryan Anderson added 23 to lead the New Orleans Hornets to a 112-92 victory over the Cleveland Cavaliers on Sunday night.
Anthony Davis had 17 points and 10 rebounds, Brian Roberts scored 15 and Eric Gordon 14 for the Hornets, who snapped a two-game losing streak. Davis' double-double was his 17th, top among NBA rookies.
Kryie Irving returned from a shoulder injury and led the Cavaliers with 31 points and six assists. Cleveland, who lost their eighth straight, were 1-7 in Irving's absence. Tristan Thompson, Wayne Ellington and Mareese Speights each scored 12 points for the Cavaliers, while Shaun Livingston had 11.
WIZARDS 109, RAPTORS 92
In Washington, Bradley Beal scored 24 points on his return to the lineup, leading Washington past Toronto.
Emeka Okafor had 19 points and 10 rebounds, while John Wall added 18 points and 10 assists for Washington. The Wizards won their seventh straight at home and moved into a tie with Toronto for 10th place in the Eastern Conference.
Jonas Valanciunas had 18 points and 10 rebounds to lead the Raptors, while Toronto leading scorer Rudy Gay scored 11 points.
Comments will be moderated. Keep comments relevant to the article. Remarks containing abusive and obscene language, personal attacks of any kind or promotion will be removed and the user banned. Final decision will be at the discretion of the Taipei Times.