World Cup: Jordan stun Japan, Socceroos stumble
BRAZIL BECKONS: In Group A games, Uzbekistan stayed top of the table after they defeated Lebanon, while second-placed South Korea scored late to down Qatar
Amer Sabah stopped a late penalty attempt from Yasuhito Endo to help secure a stunning 2-1 upset win for Jordan and deny Japan their shot at being the first team to qualify for next year's World Cup in Brazil.
Khalil Baniateyah's headed goal gave the hosts a 1-0 lead just before halftime on Tuesday. After the break, Japan pressed for the equalizer that would have been enough for them to qualify for the World Cup after Australia drew 2-2 with Oman, but Jordan doubled their lead on the hour when Ahmad Hayel Ibrahim took a loose ball near midfield, outpaced two defenders and chipped it past sprawling goalkeeper Eiji Kawashima.
Manchester United's Shinji Kagawa pulled one back for Japan eight minutes later, taking a nifty back-heel pass from Hiroshi Kiyotake and firing it past the goalkeeper, and Japan seemed to be on the verge of the draw they needed for a spot in Brazil when Atsuto Uchida earned a penalty three minutes later after colliding with a defender in the area.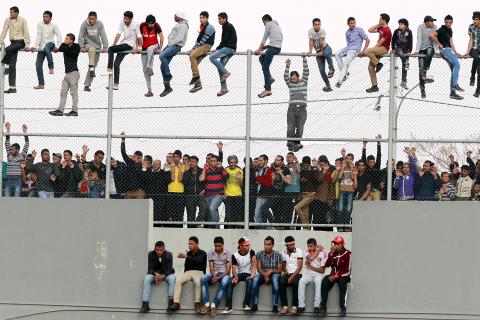 Jordan fans sit on top of a fence as they watch Jordan play against Japan during their World Cup qualifyier at King Abdullah Stadium in Amman, Jordan, on Tuesday.
Photo: Reuters
However, Endo's spot-kick was saved by the Jordan goalkeeper.
Japan still lead Group B by six points from Jordan and are seven clear of Australia and Oman. The top two teams from each of the Asian groups earn automatic spots in Brazil.
Uzbekistan lead Group A with 11 points from six matches after a 1-0 win at home over Lebanon, with South Korea improving to 10 points from five games after Son Heung-min's late goal secured a 2-1 win over Qatar in a physical match in Seoul.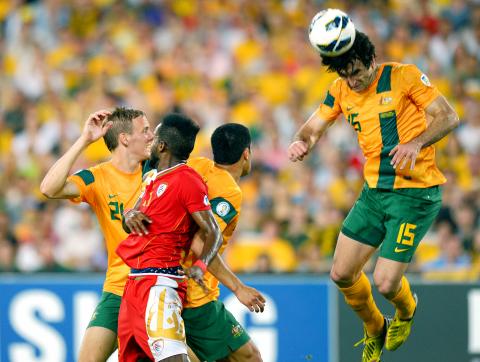 Australia's Mile Jedinak, right, scores an own-goal against Oman in their World Cup qualifier in Sydney, Australia, on Tuesday.
Photo: AFP
However, most of the regional focus in this round was on Japan's push for Brazil, something Jordan were desperate to block.
"We had a mission and we succeeded," said Jordan coach Adnan Hamad, whose team was humbled 6-0 by Japan earlier in qualifying. "It was a high-level match from both teams, and we did our best and managed to play against one of the best teams. Amer saved us from a very hard position and the team's spirit was really at its best. I thank everyone for this win."
Japan coach Alberto Zaccheroni credited Jordan with a strong performance, but acknowledged that his players should have done better with their chances, especially in the early part of the second half when they dominated possession.
"It is too bad we lost a penalty, but it happens," Zaccheroni said. "We had several chances to score, but without success. We lost a chance to qualify early, but still it was a good match."
Group rivals Australia had to score twice in the second half to salvage a 2-2 draw against Oman and only narrowly avoided a shock upset defeat.
Brett Holman equalized with a long-range strike after Oman jumped to a 2-0 lead through forward Abdul Mubarak's sixth-minute strike and an own-goal by Mile Jedinak just after halftime.
Tim Cahill's powerful headed goal in the 51st minute kept the Socceroos in the contest, but he was denied by a string of fine saves by Oman's Wigan Athletic goalkeeper Ali al-Habsi.
"I think we deserved the draw today. I knew we were close to the big teams than we were before, but each free-kick, each corner, we were in trouble," Oman coach Paul Le Guen said.
Socceroos coach Holger Oseick was disappointed, particularly after describing the match as a "must-win" during the buildup.
"It was definitely not what we expected," Oseick said of his team's poor first half. "We had different hopes according to that game, but unfortunately the first half was not according to plan and we almost had to pay dearly for that."
In Seoul, Son scored in the sixth minute of stoppage-time to give South Korea their third win from five games.
Lee Keun-ho, last year's Asian Player of the Year, headed in the first goal in the 60th minute, but Khalfan Ibrahim equalized for Qatar with a low shot from the edge of the penalty area three minutes later.
In a first half that South Korea controlled, there was little hint of the drama to follow. Chances were at a premium in a match in which frustrations spilled over into a late brawl on the pitch.
South Korea continued to push forward for the win and they were rewarded with virtually the last kick of the game as Son, who has nine goals for Hamburg SV in the Bundesliga this season, tapped home from close range.
South Korea coach Choi Kang-hee was relieved after the dramatic win.
"Our players kept going right until the end and were rewarded with victory," Choi said. "We know what we have to do to get to the World Cup and our desire to get there is strong."
Qatar coach Fahad Thani questioned the amount of stoppage-time allowed by the Japanese referee.
"There were five minutes of extra-time, but they gave six and it was a mistake. We showed enough ability and talent to take us through qualification, and to the World Cup ... but you never know what the result will be in football."
In Tashkent, Server Djeparov scored the lone goal in the 63rd minute for Uzbekistan in a narrow win that was a further blow to Lebanon, who lost their captain and were hit by a match-fixing scandal.
Lebanon captain Roda Antar retired days ahead of the match and the team is still recovering from a match-fixing scandal in which 24 players were suspended, with defender Ramez Dayoub being banned for life. Six of the players have represented the national side in the World Cup campaign.
Comments will be moderated. Keep comments relevant to the article. Remarks containing abusive and obscene language, personal attacks of any kind or promotion will be removed and the user banned. Final decision will be at the discretion of the Taipei Times.