Barnes as referee adds spice to All Blacks-France Test
The All Blacks-France World Cup final replay in June was given added spice yesterday with the appointment of Wayne Barnes as the referee, a controversial figure in a clutch match six years ago.
The opening Test of three on the French tour is to be the first clash between the two sides since the All Blacks beat France 8-7 on the same Eden Park ground in Auckland in 2011 to claim rugby's showpiece trophy.
Four years earlier, Englishman Barnes was the whistle-blower when France sensationally knocked the red-hot favorites All Blacks out of the 2007 World Cup quarter-finals.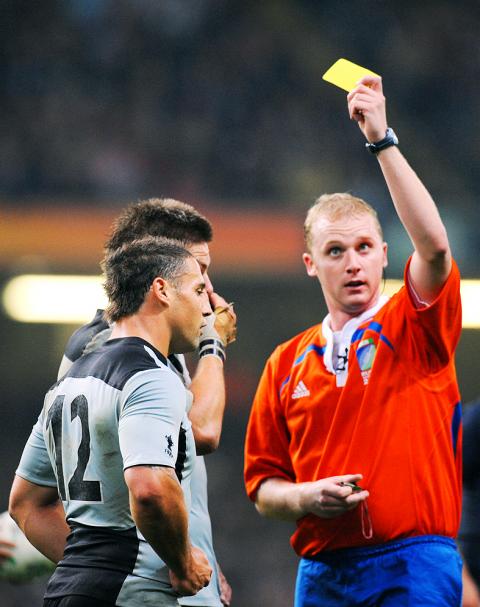 English referee Wayne Barnes, right, shows a yellow card to All Blacks center Luke McAlister, right, in the Rugby World Cup quarter-final match featuring New Zealand against France in Cardiff, Wales, on Oct. 6, 2007.
Photo: AFP
He was vilified in New Zealand after France won 20-18 and has not handled a Test between the two sides since.
Barnes was blamed for not seeing a forward pass that led to the match-winning try and for not finding any reason to penalize France as they desperately defended for the final 20 minutes.
Both the then-All Blacks coach Graham Henry and captain Richie McCaw have criticized his performance in their biographies.
In his book Graham Henry: Final Word, the coach tells how he "briefly contemplated match-fixing as the only logical explanation" for the standard of officiating.
McCaw blamed the officials who appointed "the most inexperienced referee on the roster" to handle a crucial knockout match between the hosts and the favorites.
"My beef isn't with Barnes so much as with his inexperience ... by the end of it, I thought Barnes was frozen with fear and wouldn't make any big calls," he said.
McCaw is to miss the June 8 rematch as he takes a six-month break from rugby.
The two other Tests in the series, in Christchurch on June 15 and in New Plymouth on June 22, are to be refereed by Ireland's Alain Rolland and Welshman Nigel Owens respectively.
Comments will be moderated. Keep comments relevant to the article. Remarks containing abusive and obscene language, personal attacks of any kind or promotion will be removed and the user banned. Final decision will be at the discretion of the Taipei Times.