'Improved' Brazil draw with Russia
NO WORRIES: Although the 2014 World Cup hosts are without a win in their past five games, manager Luiz Felipe Scolari is confident they are moving forward
Brazil manager Luiz Felipe Scolari insists his side are showing signs of improvement despite their lacklustre display in a 1-1 draw against Russia at Stamford Bridge.
Scolari's side were given a fright against Fabio Capello's Russia, who took the lead in Monday's friendly through Victor Fayzulin's 73rd-minute strike.
Fluminense forward Fred equalized in the 90th minute to spare the blushes of the 2014 World Cup hosts when he tapped home Marcelo's cross from close range.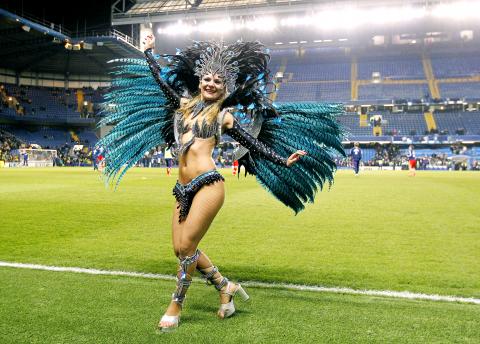 A dancer entertains the crowd before the start of the international friendly match between Brazil and Russia at Stamford Bridge in London on Monday.
Photo: AFP
Scolari is still searching for the first win of his second spell as Brazil boss, but the former Chelsea coach is confident is team is heading in the right direction.
"I think that from the game against Italy [which they drew 2-2 last Thursday] to this game we kept the same level, but we were playing against a team that were well organized," Scolari said.
"Of the 54 countries trying to qualify for the World Cup, Russia are the only one to have not conceded. They kept the ball well and we maybe let that goal in because the team marked high up the pitch and closed the gaps so much more. In football it's not necessarily the best team that always wins," he added.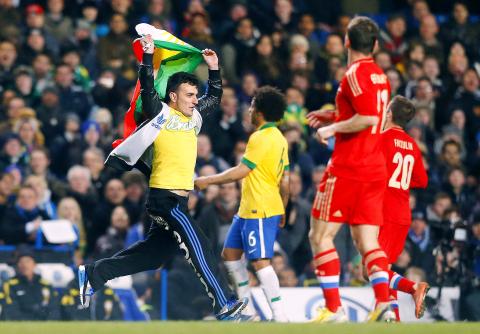 A man runs onto the pitch waving a flag during the friendly international match between Brazil and Russia in London on Monday.
Photo: Reuters
"What I really liked is that towards the end our team had a good reaction and didn't get desperate. They kept their heads and played the ball because they knew they would have chances. I believe we are on the right path. Everyone knows there are no short cuts for success and you need to win in stages. In each stage we try to improve and that is the only way to success — that is what we are doing now," Scolari said.
Brazil are without a win in their past five games and last week they threw away a 2-0 lead against Italy, eventually drawing 2-2.
However, Scolari is happy with the progress of his side.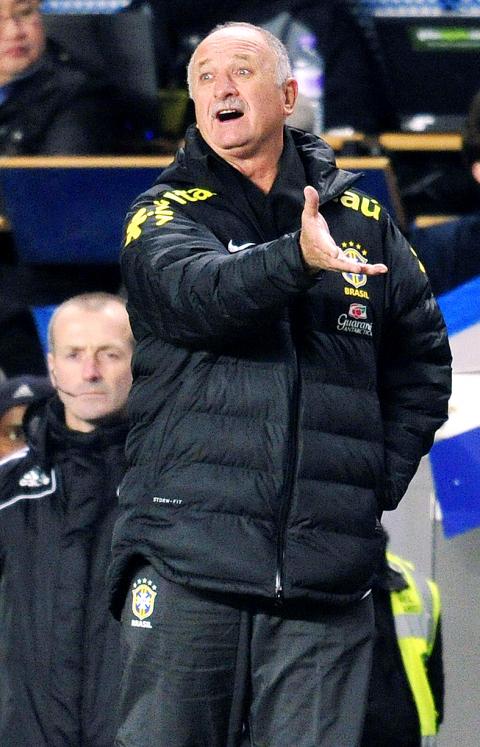 Brazil manager Luiz Felipe Scolari gestures from the touchline during their international friendly match against Russia at Stamford Bridge in London, England, on Monday.
Photo: AFP
"We need to continue to work with the group. The Brazilian fans can be sure they will have a very good group they will be happy with in the World Cup," he said.
Meanwhile, Capello was delighted with the never-say-die spirit his side showed, despite feeling his team were distracted by two pitch invasions.
With Russia top of their World Cup qualifying Group F by four points, they are well on course to join hosts Brazil in South America next year.
"I thought the team played well and were compact, but the most important thing was the team spirit," Capello said.
"This is important if you want to go forward — all my players were on form. When you play against top teams like Brazil you always learn a lot, and you know the value of the team and players. This is the most important thing for a manager," he said.
"Friendlies are important because I want to know different solutions," he added.
Russia's star man Yury Zhirkov, a former Chelsea midfielder, only came on in the second half and had to limp off with an injury. However, Capello explained his reasons behind his surprise selection.
"I spoke with Zhirkov before the game and told him he needed to be ready to play in the second half. I then had to change the team because he got injured," Capello said.
Former England coach Capello also said that there were a number of contrasts to managing on the international scene with Russia.
"It's the same, but it is also different," he said.
"For two reasons: The Russian league stops during the winter and the language is hard, but I am happy because we can do something really important for this country," he added.
"The target that everyone knows about is to play in the World Cup," Capello said.
However, a fan who ran onto the pitch in the closing minutes of the match caused his players to lose concentration and concede the last-minute goal by Fred that cost them victory, Capello added.
"My only disappointment is that after a supporter came on the pitch my players lost their concentration and against Brazil you cannot lose your concentration," he said.
Earlier another supporter had run on the pitch and was also quickly bundled away by security, but when Scolari was told what Capello had said, he replied with a story of his own.
"When I was a coach in Portugal we were playing against Estonia and a very beautiful girl came on the pitch topless, everyone was looking at her — even me. At the time the game was 0-0, and we ended up winning it 2-0," Scolari said. "I don't know if the guy today distracted the Russian team, but who knows, it can happen."
Apart from the intruders, Capello said he was delighted with the way his team played as they chalked up their eighth unbeaten match.
Capello, back in England where he coached the national team for four years, taking them to the World Cup in 2010, was asked what he thought of England's chances in their qualifier against Montenegro yesterday.
"It's not my problem," the Italian said, smiling.
"Tomorrow I will probably watch the France versus Spain game on the television," he added.
Comments will be moderated. Keep comments relevant to the article. Remarks containing abusive and obscene language, personal attacks of any kind or promotion will be removed and the user banned. Final decision will be at the discretion of the Taipei Times.