Aoki out to prove he is Asia's top lightweight
Shinya Aoki is Asia's most recognizable mixed martial artist, but away from the cage he hardly stands out from the crowd, with his sensible attire and scholarly glasses. The 29-year-old does not look intimidating, but appearances can be deceptive and he has a hard-earned reputation as one of the most-feared opponents in the sport.
Fighters fear Aoki because of his arsenal of potentially fight-finishing submissions. Once the Japanese lightweight succeeds in applying one of these holds, locks or chokes, his opponent must either concede defeat or risk serious injury.
Aoki's most recent opponent, Arnaud Lepont, who he fought in the main event of the ONE Fighting Championship (FC) "Rise of Kings" event in October last year, chose the second option and was left unconscious on the canvas in front of 12,000 fans at the Singapore Indoor Stadium.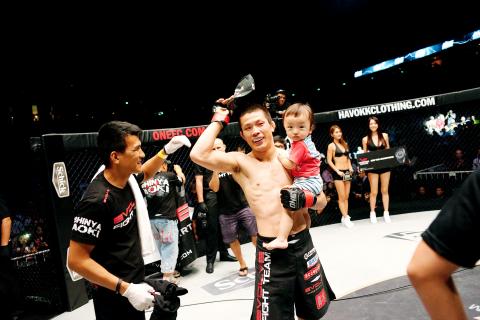 Japanese lightweight MMA fighter Shinya Aoki celebrates with his son after submitting Arnaud Lepont in the opening round of ONE FC: "Rise of Kings" at the Singapore Indoor Stadium on Oct. 6 last year.
Photo: Courtesy of One Fighting Championship
Mizuto Hirota paid an even heavier price at a Dynamite event that took place in Tokyo in 2009. He was caught in a hammerlock by Aoki that snapped his arm, putting him out of action for the best part of two years.
The win over Lepont was particularly significant for Aoki because it was his first fight for ONE FC, the most prominent mixed martial arts (MMA) promotion in Asia. The matchmakers were sufficiently impressed to grant an immediate title shot and he says the fight is the most important of his career to date.
"Before, I was champion of Shooto and Dream, but only people in Japan watched me fight in those days, whereas people all over Asia watch ONE FC, so winning this belt would be my greatest achievement as a fighter," he said
The lightweight title fight with reigning champion Kotetsu Boku will be the main event of ONE FC: "Kings & Champions," which takes at the Singapore Indoor Stadium on April 5. The show will be broadcast live across Asia by Star Sports and Aoki, who has spent the majority of his career competing in Japan, is relishing the opportunity to showcase his submission skills in front of a wider audience.
"In Japan, MMA is not as big as it was before, but in other countries, it is growing very fast. I have fought in the US three times and it is very difficult because of the traveling and the time difference, so I prefer to stay here, and ONE FC is the biggest promotion in Asia, so it is the best place for me to test myself," he said.
Revenge will be on the agenda, because Boku won the belt by beating one of Aoki's teammates, Zorobabel Moreira. With a world title on the line, there is already plenty of prestige at stake, but for the challenger at least, this fight will be personal.
"I think Boku was lucky to beat 'Zoro,' who is my good friend, but he will need more than luck if he wants to keep the belt because I intend to avenge my teammate's loss. I respect Boku's ability and also the power of his punches, but I believe I am a more complete fighter than he is," he said.
Moreira and Aoki are both members of the fight team at Evolve MMA in Singapore, where the Japanese fighter has been training since 2011. He is only slowly getting to grips with the English language and admits to occasional bouts of homesickness, but feels that these are the sort of sacrifices he must make if he wants to win the third major title of his career.
"Evolve MMA has world champions in Muay Thai, boxing and wrestling, as well as jiujitsu, which has always been my strength. I am constantly seeking to improve as a fighter, and to do that I need to work with the best trainers and training fighters, and they are here in Singapore. Sometimes it is hard when my family is not here with me, but when I have my son in my arms and the belt around my waist, it will all be worthwhile," he said.
ONE FC is expanding rapidly, with Jakarta, Kuala Lumpur and Manila already having hosted shows and Taipei among the future destinations on the itinerary. It is the beginning of a new era for Asian MMA, which Aoki dreams of dominating.
A win on April 5 would be the perfect start.
Comments will be moderated. Keep comments relevant to the article. Remarks containing abusive and obscene language, personal attacks of any kind or promotion will be removed and the user banned. Final decision will be at the discretion of the Taipei Times.