NHL: Avalanche snap Blackhawks' record run
The best season start in NHL history was ended on Friday as the Chicago Blackhawks lost 6-2 against the Colorado Avalanche.
It was Chicago's first loss in regulation time this season and ended a remarkable run in which they earned at least one point in their first 24 games, an NHL record.
Elsewhere, Anaheim shored up their hold on second place in the standings with a win over Calgary, while Ottawa ended a four-game skid by edging the New York Rangers.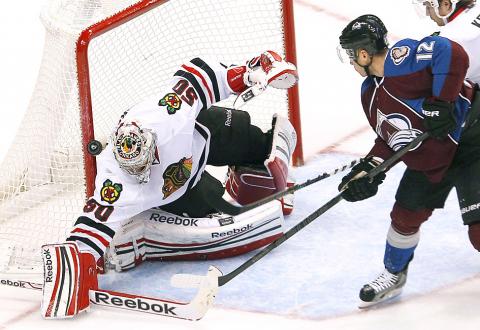 Chicago Blackhawks goalie Corey Crawford, left, has the puck bounce off the pipe on a shot on goal by the Colorado Avalanche's Chuck Kobasew, right, in their NHL game in Denver, Colorado, on Friday.
Photo: Reuters
Colorado's Matt Duchene scored four points and Ryan O'Reilly got his first goal since his contract dispute was resolved more than a week ago. O'Reilly assisted on another goal in a four-goal onslaught in the second period that turned a 1-1 tie into a no-contest.
The Blackhawks' previous loss in regulation on the road came more than a year ago. Dating back to last year's regular season, their points streak was 30 games, still five short of the all-time record held by the 1979-1980 Philadelphia Flyers.
Anaheim's Daniel Winnik ended an 18-game goal drought on the first shot of the game, setting up the Ducks' 4-0 win over the Calgary Flames.
Viktor Fasth posted his second career shutout with 29 saves, while Bobby Ryan and defenseman Sheldon Souray scored less than two-and-a-half minutes apart in the second period for Anaheim, who have won 16 straight at home against Calgary.
Ryan Getzlaf notched his 500th NHL point on the same day he signed an eight-year, US$66 million contract extension.
Ottawa's Jakob Silfverberg broke a tie with 4 minutes, 41 seconds left to give the Senators a 3-2 win over the New York Rangers.
Zack Smith and Patrick Wiercioch scored in the first period for the Senators, who improved to a surprising 12-1-1 record in their past 14 visits to Madison Square Garden.
Rick Nash and Brad Richards scored in the opening period, but the Rangers had a season-best, four-game winning streak broken.
Nashville's Colin Wilson had a career-high two goals and two assists, as the Predators thrashed the Edmonton Oilers 6-0 to snap a three-game skid.
Winnipeg's Dustin Byfuglien scored with 40.5 seconds left in overtime to give the Jets a 3-2 win over the Florida Panthers.
Comments will be moderated. Keep comments relevant to the article. Remarks containing abusive and obscene language, personal attacks of any kind or promotion will be removed and the user banned. Final decision will be at the discretion of the Taipei Times.