Azarenka beats Li in dramatic final
DRAMA DOWN UNDER: Victoria Azarenka became only the fourth active player to hold two or more major titles after she defeated China's Li Na in Melbourne yesterday
Victoria Azarenka triumphed in an incident-packed final against Li Na to successfully defend her Australian Open title yesterday.
After a scrappy match marked by boos for Azarenka, a break for Australia Day fireworks and two painful falls for China's Li, the Belarussian top seed dissolved in tears when she sealed the 4-6, 6-4, 6-3 win.
Li required two medical timeouts after twice twisting her left ankle and also banging her head on the court after falling, in a match interrupted for nine minutes at a crucial stage by the fireworks.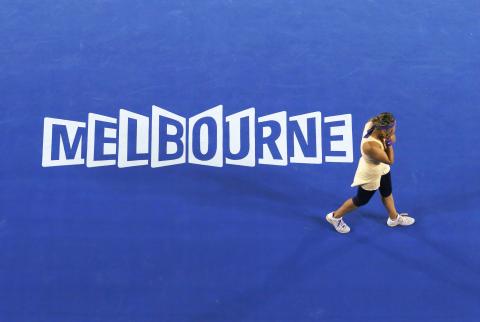 Victoria Azarenka reacts after defeating Li Na in the Australian Open women's singles final yesterday in Melbourne, Australia.
Photo: Reuters
Azarenka also overcame a pro-Li crowd that was clearly unimpressed by her controversial medical timeout in the semi-finals, which she took after blowing five match points.
It was a gutsy effort from the 23-year-old as she came back from a set down and sealed it on her first match point to clinch her second Grand Slam title.
"It's been a real long two weeks," Azarenka said. "I will always keep very special memories of this court. It will be in my heart forever. The last thing I want to say is, happy Australia Day everybody."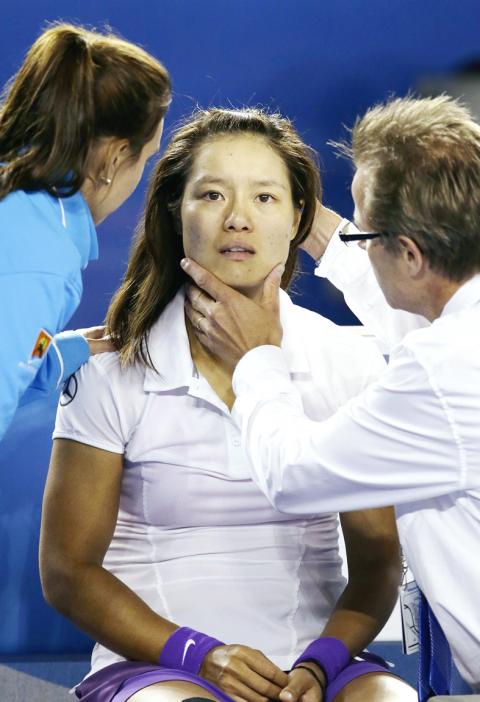 Li Na receives medical attention for the second time during yesterday's Australian Open women's singles final in Melbourne, Australia.
Photo: EPA
Meanwhile Li will count herself desperately unlucky after she twisted her ankle in the second set, and then went over heavily on it again after the fireworks, banging her head and appearing dazed before continuing.
"Congratulations to Victoria," said Li, who had tears in her eyes after the match. "Fantastic result here for two years, so well done."
Li then thanked her coaching team.
"Thanks to the team, two weeks ago I really had to say I hate my team because they pushed me a lot," Li said. "But I think it's not bad, so I should shut up and continue."
"So, I know I'm not young, I still have to say I'm looking forward to next year," she said.
Li, 30, first twisted her left ankle while leading 6-4, 1-3. She hobbled to her courtside chair for the ankle to be strapped.
Leading 2-1 in the third set, and playing the first point after the fireworks display, Li again tumbled over on the ankle, hitting the back of her head on the playing surface.
Li started the match with a double fault in a portent of the struggles to come for both players on serve. Out of 29 games, there were 16 breaks and Li finished the match with 57 unforced errors.
Li had the majority of the crowd support as spectators cheered errors and double faults from Azarenka. One even mocked the loud hooting sound she makes when she hits a shot.
Azarenka won games and points to muted applause, but held firm.
Azarenka won only four points in her first three service games and when a backhand from Li kissed the line, the Chinese player led 4-2 in the first set. Her eighth winner of the match, a scorching forehand, put her 5-2 ahead.
Serving for the set at 5-3, four unforced errors from Li earned Azarenka a reprieve, but yet another service break gave Li the first set.
Azarenka skipped to a 3-0 lead in the second set, but wild forehands helped Li peg back the deficit. Li won five straight points after her first medical timeout, for treatment on her ankle, but Azarenka snuck ahead 4-2.
Moving freely despite thick strapping on her ankle, Li levelled at 4-4. Azarenka was loudly booed when she angrily swatted a ball away, but she ran through the next two games, holding to love to level the match at a set apiece.
When they resumed the third set after the fireworks, Li again fell and required medical treatment.
However, the Chinese player won five points in a row and held a break point for 3-1 in the third set, before Azarenka peeled off groundstroke winners to hold.
Azarenka broke Li for 4-2 and started producing her most dominant serving of the night. Sneaking to 5-3, the 16th break of the match ended Li's courageous performance.
Azarenka became only the fourth active player to hold two or more majors, joining Serena Williams with 15, Venus Williams with seven, Maria Sharapova with four and Svetlana Kuznetsova with two.
Meanwhile, US twins Bob and Mike Bryan became the most successful men's pair in Grand Slam history when they won their 13th doubles title together.
The 34-year-olds beat Dutch pair Robin Haase and Igor Sijsling 6-3, 6-4 to break the record of 12 Grand Slams they had shared with Aussies John Newcombe and Tony Roche.
Comments will be moderated. Keep comments relevant to the article. Remarks containing abusive and obscene language, personal attacks of any kind or promotion will be removed and the user banned. Final decision will be at the discretion of the Taipei Times.