Gabart leads Vendee Globe at halfway mark
The enthralling battle for the lead in the round-the-world Vendee Globe hit the halfway point on Wednesday, with Frenchman Francois Gabart leading compatriot Armel Le Cleac'h by just over 12 nautical miles (22.2km).
With 19,368km to the finish at Les Sables-d'Olonne in western France, the fleet which began with 20 boats, but has since been reduced to 13, has been at sea for 39 days in what is widely regarded as the most prestigious race in the sport.
The solo helmsmen, who sail without stopping and without assistance, must now negotiate the dangers of the Pacific and Atlantic oceans as they make their way back toward the starting point.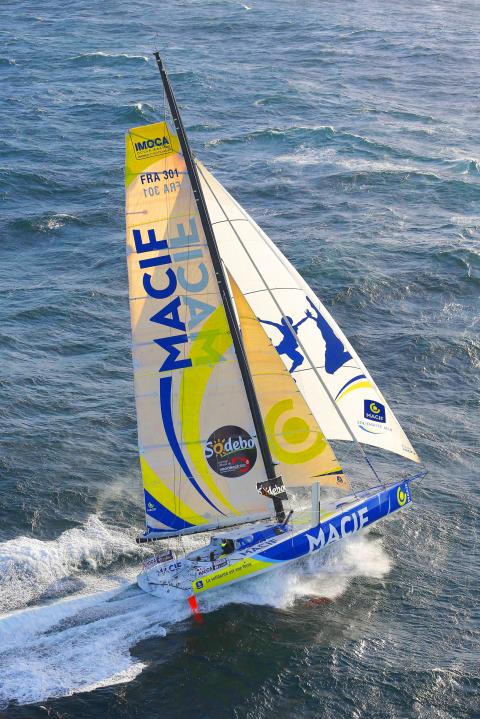 French skipper Francois Gabart sails on board his monohull Macif on Sept. 24 off the coast of Penmarc'h, Western France.
Photo: AFP
"I'm currently at 22-24 knots and there's a lot of noise. I'm very happy Armel [Le Cleac'h] didn't sail away after the gate," Gabart said. "I managed to catch some strong wind a little before him and take the lead of the race, but it's very close."
"Now I need to be careful and take good care of myself, make sure I don't push myself too hard. Sometimes, when you're tired, you get nervous or mad really fast, just like in everybody's daily life," he added. "And when that happens, you have to take a deep breath or take a nap when it's really needed."
"I'm glad to be halfway through and to be on my way back home, it's a pleasant feeling. I'll try to do as good, and possibly even better, in the second half," Gabart said.
The record to beat is 84 days, 3 hours and 9 minutes established by Frenchman Michel Desjoyeaux during the last race in 2008-2009.
Only French sailors have won the event since it began in 1989.
A third Frenchman, Jean-Pierre Dick, is a distant third and 815.9km behind Gabart, while British hope Alex Thomson, who was once second, is out of the running bar a miracle comeback and 1,319.6km adrift of the leading duo.
Swiss sailor Bernard Stamm lies fifth, more than 1,000km back.
"We're in a northwest wind and the conditions are getting a little worse. We're sailing fast towards New Zealand. Thirty-five-knot wind, with even stronger gusts, and that should last for 36 hours, taking us to the New Zealand gate," Le Cleac'h said.
"Yes, I did crash on waves a few times, which is logical when you see how big the waves can be in the Southern Ocean. When that happens, you have to hold on tight. Sometimes it's extreme and you have to know how to anticipate that," he added.
"We're halfway through and I'm glad to be there. We've sailed quite well and efficiently since the start. There's been some tough battles with some of my companions, and I'll remember the beautiful moon and stars in the St Helena area," Le Cleac'h said. "It's satisfying to be ahead of the previous records."
Comments will be moderated. Keep comments relevant to the article. Remarks containing abusive and obscene language, personal attacks of any kind or promotion will be removed and the user banned. Final decision will be at the discretion of the Taipei Times.