NBA: James named 'Sportsman of the Year' by magazine
LeBron James of the Miami Heat was named as Sports Illustrated's Sportsman of the Year for this year, the US magazine announced on Monday.
In an outstanding year, the 27-year-old James won his first NBA championship, his third league Most Valuable Player (MVP) award, was named MVP of the NBA finals and won a gold medal with the US at the London Olympics.
He became just the sixth basketball player to win the award, which began in 1954.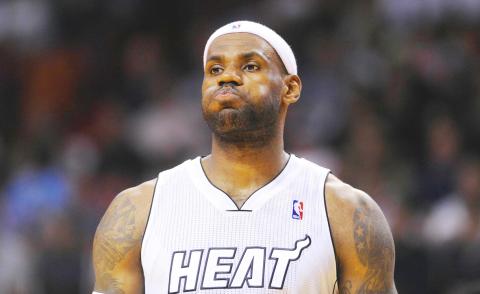 LeBron James of the Miami Heats reacts against the Cleveland Cavaliers during the second half of their NBA game in Miami on Nov. 24. James was named Sports Illustrated's Sportsman of the Year on Monday.
Photo: Reuters
The most recent was his teammate Dwyane Wade in 2006.
Two years ago, James became a hate figure for many US sports fans after he announced his decision to sign for Miami live on television after his contract with the Cleveland Cavaliers had expired.
He was booed at courts across the NBA and received intense criticism for his performance as Miami lost last year's NBA finals to the Dallas Mavericks.
"Did I think an award like this was possible two years ago? No, I did not," James said in an interview with the magazine.
"I thought I would be helping a lot of kids and raise US$3 million by going on TV and saying: 'Hey, I want to play for the Miami Heat,' but it affected far more people than I imagined," he said.
"I know it wasn't on the level of an injury or an addiction, but it was something I had to recover from. I had to become a better person, a better player, a better father, a better friend, a better mentor and a better leader. I've changed, and I think people have started to understand who I really am," he said.
Comments will be moderated. Keep comments relevant to the article. Remarks containing abusive and obscene language, personal attacks of any kind or promotion will be removed and the user banned. Final decision will be at the discretion of the Taipei Times.