Redskins edge out Giants, push for playoffs
Robert Griffin III and the Washington Redskins continued their improbable push for the playoffs by edging the New York Giants 17-16 on Monday to reach the .500 mark and move into a tie for second place in the NFC East.
Griffin, the Redskins' sensational rookie quarterback, completed 13 of 21 passes for 163 yards and rushed for 72 yards on five carries to anchor Washington's third straight victory.
He hit Pierre Garcon with an eight-yard scoring strike with 11:31 left to give the Redskins a 17-16 lead and ignite the 80,246 at FedEx Field in an unseasonably warm evening in suburban Washington.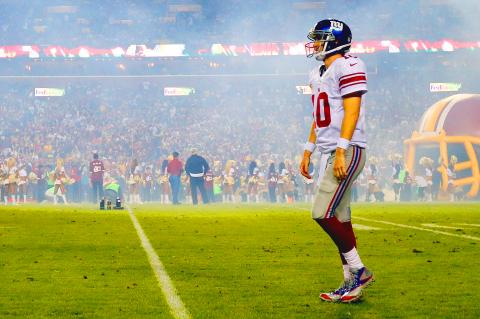 Quarterback Eli Manning of the New York Giants walks to the bench before taking on the Washington Redskins at FedEx Field in Landover, Maryland, on Monday.
Photo: AFP
The Giants gained 117 more yards through the air than Washington and held a seven minute advantage in time of possession but were hampered by nine penalties for 73 yards.
Washington rookie Alfred Morris had 124 yards on 22 carries as the Redskins had a 207-117 advantage in the ground game.
"You can just feel the atmosphere in this locker room," Morris said. "Our playoff hopes are still alive. We went out there and fought a hard game and came out victorious."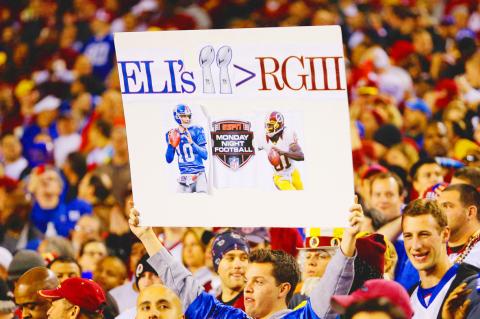 A New York Giants fan holds up a sign as the Giants take on the Washington Redskins in Landover, Maryland, on Monday.
Photo: AFP
The win over the defending Super Bowl champions lifted Washington to 6-6 and into a tie for second place with Dallas in the NFC East, a game behind the Giants (7-5).
"We know that our backs are against the wall," Griffin said. "Even though we won tonight, our backs are still against the wall. That's the attitude we have to have. The guys in our locker room know how hard we've worked. We started the season 3-6 and now we're where we're at because of that hard work."
New York took their opening possession and marched 69 yards in 11 plays, before the drive stalled and Lawrence Tynes kicked a 39-yard field goal to give them a 3-0 lead.
The Redskins took a 7-3 lead on a bizarre play when wide receiver Joshua Morgan caught a fumble by Griffin in mid-air and raced 13 yards into the end zone. Griffin had already run for 12 yards before getting hit and fumbling the ball forward.
"We needed a big play," Morgan said. "It doesn't matter how the plays come as long as you make the play."
The Giants took a 10-7 lead with two minutes left in the first half when Eli Manning capped a 13-play, 85 yard drive with a four-yard touchdown pass to tight end Martellus Bennett.
Washington evened the score at 10-10 with 41 seconds left in the half with Kai Forbath's 33-yard field goal but Tynes gave the Giants a 13-10 lead with a 40-yarder as time expired.
Tynes kicked his third field goal of the game, a 35-yarder, to give the Giants a 16-10 advantage with three minutes left in the third quarter.
Manning completed 20 of 33 passes for 280 yards, but the Giants were able to reach the end zone only once. Ahmad Bradshaw rushed for 103 yards on 24 carries, but said not scoring touchdowns was crucial.
"We've been going through it all year," he said. "It's just something we've got to work on and go back to the books. We've just got to finish every play and we didn't."
Comments will be moderated. Keep comments relevant to the article. Remarks containing abusive and obscene language, personal attacks of any kind or promotion will be removed and the user banned. Final decision will be at the discretion of the Taipei Times.