Mike Tyson eyes global tour for one-man show
Boxing legend Mike Tyson said on Monday he wants to take his one-man stage show on the road internationally, to countries including Saudi Arabia and India, if they will let him in.
Announcing a US tour of his Undisputed Truth show — which opened in Las Vegas in April and transferred to Broadway — the 46-year-old said being on stage gave him a "high" like drugs did during his notorious hell-raising days.
Tyson, a convicted rapist who was recently denied a New Zealand visa, said a trip to Australia last month had given him confidence in his abilities to connect with audiences in the US and beyond.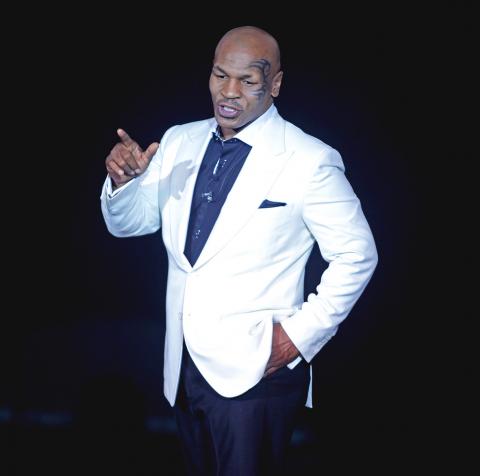 Former boxing heavyweight champion Mike Tyson appears in his one-man show in Las Vegas, Nevada, on April 14. Tyson said he wants to take his show on the road internationally.
Photo: AFP
"The Australian press, they thought I was the abominable snowman until they got to know me. They thought I was scary ... They thought I was gonna give them a knuckle sandwich like back in the old days," he told reporters.
However, they warmed to him, he said, adding in a media conference call: "That gave me such overwhelming confidence in doing it."
Asked which countries he would like to take the show to, Tyson, a convert to Islam, said: "Any one of them, I don't really care ... Saudi Arabia. A Scandinavian tour, we can do a Philippines tour, any of them."
"You could even do tours where they don't speak our language and have interpreters on speakers or something. I'd really like to go to India, I think that's going to be so awesome," he added.
Describing why he wants to take the show to more audiences, he said: "The stage gets me high, the fans get me high. That's the high I was looking for when I was doing drugs."
In the show, produced by director Spike Lee, "Iron Mike" — accompanied by musicians — recounts his tough childhood in Brooklyn, a roller-coaster career and drug-and-alcohol-fueled lifestyle that eventually landed him behind bars.
Tyson converted to Islam while serving a 10-year prison sentence, later commuted to three years, for raping a US beauty queen in 1991.
After prison, the fighter — who was world heavyweight champion from 1986 to 1990 — attempted a comeback, but was never able to regain his title and finally gave up professional boxing in 2005.
Tyson said prison was ultimately a good thing for him.
"I didn't think I would make it to 25. I was just crazy. I was so out of control. I didn't know how out of control I was until I was in prison. I took that as a blessing," he said.
Tyson will start his 10-week US tour in Indianapolis on Feb. 12 next year, with shows in 36 cities including Chicago, San Francisco, Los Angeles, Houston and Washington.
Comments will be moderated. Keep comments relevant to the article. Remarks containing abusive and obscene language, personal attacks of any kind or promotion will be removed and the user banned. Final decision will be at the discretion of the Taipei Times.