Lindsey Vonn continues winning run in Canada
Another race at Lake Louise, another win for Lindsey Vonn, who triumphed in a women's alpine World Cup Super-G on Sunday to complete another three-race sweep in the Canadian Rockies.
Vonn, winner of downhills on Friday and Saturday, was timed in 1 minute, 22.82 seconds, beating fellow US skier Julia Mancuso by 0.43 seconds.
Austria's Anna Fenninger was third, 0.45 seconds off the lead.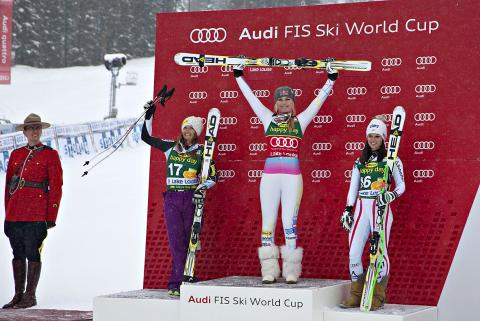 Winner Lindsey Vonn, center, is flanked by second-placed compatriot Julia Mancuso, left, and third-placed Anna Fenninger on the podium during the women's World Cup Super-G in Lake Louise, Canada, on Sunday.
Photo: Reuters
Vonn notched her 14th career win at Lake Louise, where she swept three races last year as well. She becomes the first skier in history to win three World Cup races at the same venue in two different seasons.
She hopes her continued domination on the women's alpine circuit will convince skiing's governing officials to grant her request to race against the top men in the world.
"It's not like I'm getting 20th every day and saying I want to race the men," Vonn said. "I try to let my skiing speak for itself. I think this weekend was the next step for me and a testament to why I want to race with the men."
With her 56th World Cup triumph, she moved out of a tie for second on the all-time list with Swiss great Vreni Schneider, who reigned in the technical disciplines in the 1980s and 1990s.
Now Vonn is chasing the record 62 World Cup victories of Annemarie Moser-Proell.
Vonn's stellar weekend comes just a couple of weeks after a painful intestinal ailment landed her in hospital for two days.
Last weekend at Aspen she opted out of a slalom and looked tired in finishing 21st in a giant slalom.
She was delighted that a return to Lake Louise produced a return to the winner's circle, especially on Sunday in the Super-G, which she said was always the tougher race for her compared with a downhill.
"I was in a pretty rough place sitting in a hospital bed and everyone is training and skiing fast and Tina [Maze] is winning everything and, 'Great. How am I supposed to get up and keep going? I have no training, I have no energy,"' she said. "I've never quite dealt with something like that before. I didn't know what was going to happen. I came up here trying to have a clean slate, giving myself every chance to do well and it turned around. This really sets me up well for the rest of the season. This is exactly the weekend I needed."
She was also delighted to have led a US one-two in all three races. Stacey Cook, in her first podium finishes, was second in both downhills.
Vonn has seven straight wins at Lake Louise, breaking Swede Anja Paerson's record of consecutive World Cup wins at one venue. Slovenia's Maze finished fourth and maintained her lead in the overall standings after seven races with 397 points.
Germany's Maria Hoefl-Riesch was second on 319, nine points ahead of Vonn who continued to gain ground.
Comments will be moderated. Keep comments relevant to the article. Remarks containing abusive and obscene language, personal attacks of any kind or promotion will be removed and the user banned. Final decision will be at the discretion of the Taipei Times.