Contador needs time to prepare for Tour
Spanish champion cyclist Alberto Contador said on Thursday he planned not to extend his exhausting career "too much" longer and insisted he needed lots of notice if he is to race in the next Tour de France.
Contador played down earlier comments that suggested he may not take part in next year's Tour de France if his team Saxo Bank-Tinkoff Bank is not given ample notice of whether it has been accepted in the race.
"I am not thinking of extending my sporting career too much," said Contador, who has three years left on his contract with the team, during a promotional appearance. "I give practically everything for cycling and it takes a lot of time in my life. I spend more than 200 days a year away from home. It's really hard and wears you out a lot."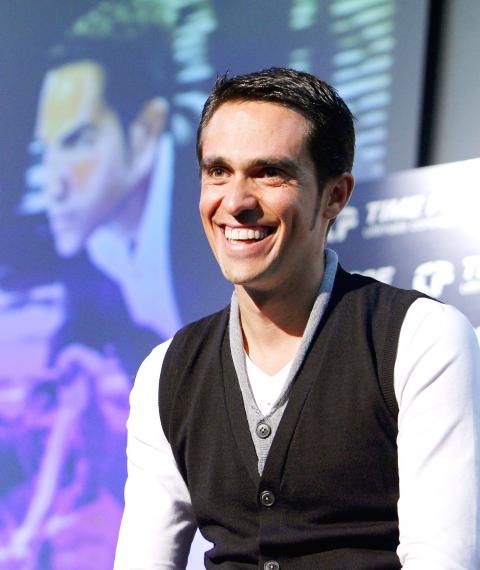 Spanish Saxo Bank-Tinkoff Bank rider Alberto Contador smiles during a press conference after a publicity event in Madrid, Spain, on Thursday.
Photo: EPA
Contador, a two-time Tour de France winner, won his second Vuelta a Espana crown in September, a month after returning from a two-year doping ban.
He lost his third Tour de France title and his Giro d'Italia title last year after being banned for testing positive for the banned substance clenbuterol during the 2010 Tour de France.
Contador said he had not been trying to put pressure on Tour organizers with his comments last week, saying he needed to have sufficient notice to prepare.
"Not at all. Everyone knows how it is when you're preparing for a Grand Tour, especially the Tour de France. You have to be thinking about that race from the very start of the season," he said.
If he does not make the next Tour, Contador said he would aim to compete in the Vuelta a Espana or the Giro d'Italia.
Saxo Bank-Tinkoff Bank are waiting to find out if they are to be included in the WorldTour next year after their omission from its provisional list of 15 teams released in October.
The Danish team failed to make the initial cut, which took into account each team's top 12 riders for next season. They were unable to count Contador's points due to his doping suspension.
Comments will be moderated. Keep comments relevant to the article. Remarks containing abusive and obscene language, personal attacks of any kind or promotion will be removed and the user banned. Final decision will be at the discretion of the Taipei Times.