NBA: Lin propels Rockets to victory
CHEERS AND THEN TEARS: Jeremy Lin's double-double gave Houston their third straight win, before the team flew to Minnesota for Sasha McHale's memorial service
Jeremy Lin shot a double-double to lead the 7-7 Houston Rockets to their third victory in a row, a 117-101 drubbing of the Toronto Raptors in Houston, Texas, on Tuesday.
Lin was seven-of-nine from the field against the Raptors, the first time he has shot above .500 in any game this year, and his 16 points and 10 assists were his third double-double of the season.
Lin, the first NBA player of Taiwanese descent, capped his top-flight performance with a dunk with 2 minutes, 13 seconds left in the game.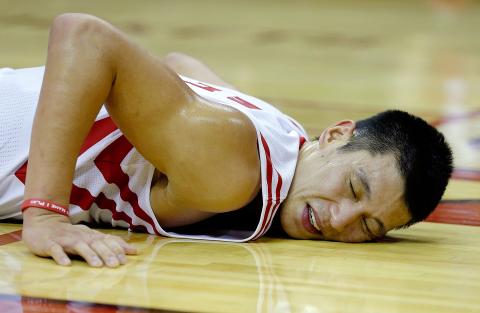 Jeremy Lin of the Houston Rockets is knocked to the court against the Toronto Raptors in their NBA game at the Toyota Center in Houston, Texas, on Tuesday.
Photo: AFP
James Harden scored a team-high 24 points and Patrick Patterson added 22.
Rockets interim coach Kelvin Sampson was satisfied with the 24-year-old's performance.
"This is the best game Jeremy has played, no question," Sampson was quoted as saying. "I thought he got his swagger back against New York. He's been working hard with his shooting."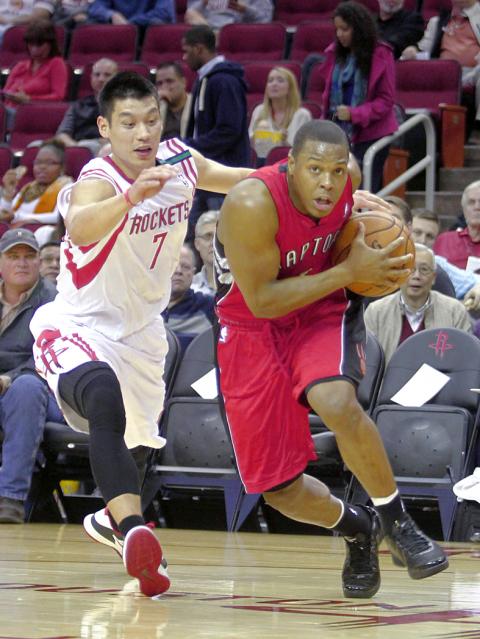 Jeremy Lin of the Houston Rockets, left, guards Kyle Lowry of the Toronto Raptors as he brings the ball down court in the second quarter of their NBA game in Houston, Texas, on Tuesday.
Photo: Reuters
Lin was six-of-12 from the floor and he grabbed seven rebounds in the Rockets' 131-103 win over Lin's former team the Knicks on Friday.
Despite the victory, the club was mourning the death of 23-year-old Alexandra "Sasha" McHale, the daughter of Rockets head coach Kevin McHale. Houston's players wore a green patch with purple trim on the left shoulder of their white jerseys to show their support for the coach, who has been absent since Nov. 10.
The team planned to fly to Minneapolis, Minnesota, to attend yesterday's memorial service for Sasha McHale, who died last week after battling lupus for years.
"We've got to be there for coach. He's going through a lot right now. Our biggest thing is just supporting him and making sure we comfort him," Harden was quoted as saying.
"We're missing our leader. Right now, we're just focused on coming out and playing the way we're supposed to play. Hopefully, when he is watching, he can be proud of us," Lin said.
After the memorial service, the players were scheduled to fly to Oklahoma City to take on the Thunder last night.
76ERS 100, MAVERICKS 98
In Philadelphia, Evan Turner scored 22 points and Thaddeus Young had 20 to edge the Philadelphia 76ers past the Dallas Mavericks.
Jrue Holiday had 18 points and seven assists for the Sixers, who snapped a six-game losing streak to Dallas.
Philadelphia shot six-of-14 on three-pointers and won their second straight game.
Chris Kaman scored 20 points, while Elton Brand and Shawn Marion had 17 apiece for the Mavericks. Vince Carter added 15 and was clutch in the fourth quarter in trying to bring Dallas back from a 10-point hole.
The 76ers finally created some space in a back-and-forth game when they snapped a tie with a 10-0 run midway through the fourth.
Carter hit his third three-pointer and then a left-handed layup to bring the Mavericks to 100-98 with 37 seconds left.
O.J. Mayo missed two free throws with 2.7 seconds to go and Jae Crowder's last-gasp jumper was off the mark, leaving Dallas with a 2-5 record on the road.
PACERS 79, LAKERS 77
In Los Angeles, George Hill's high-arching shot over Dwight Howard went in with 0.1 seconds left as Indiana withstood Kobe Bryant's 40-point performance for Los Angeles.
Hill scored 19 points and hit the enormous clutch shot for the Pacers, who won their third straight road game over the Lakers after losing 11 consecutive regular-season games since Staples Center opened in 1999.
The Pacers' sturdy defense stifled the Lakers' up-tempo offense for most of the night, turning the game into an ugly grind, before the thrilling finish.
Bryant hit a tying three-pointer with 24.5 seconds left and produced the 114th 40-point game of his career, despite playing with an apparent case of the flu for the Lakers, who dropped to 2-3 under new coach Mike D'Antoni.
David West scored 16 points in the opener of Indiana's four-game road trip.
The Lakers flirted with the lowest-scoring game and worst shooting percentage in franchise history, before scoring eight straight points in the waning minutes. Los Angeles finished 23-for-43 at the foul line.
SUNS 91, CAVALIERS 78
In Cleveland, Ohio, Goran Dragic scored 19 points and Michael Beasley added 15 as Phoenix took control late in the third quarter to beat the Cleveland Cavaliers.
The Suns scored the final 14 points of the third to take a 71-59 lead they did not relinquish, sending Cleveland to their 10th loss in 11 games.
Cavaliers center Anderson Varejao had 20 points and 18 rebounds for his sixth straight double-double. He came in leading the NBA in rebounding with a 14.7 average.
Cleveland were playing their fourth game in five nights. The Cavaliers shot 36 percent from the field against a Suns team that was giving up an NBA-worst 103.3 points per game.
Cleveland played their fifth straight game without star point guard Kyrie Irving, out until the middle of next month with a broken left index finger. Backup shooting guard Daniel Gibson missed the game with a sore right elbow.
TIMBERWOLVES 97, KINGS 89
In Sacramento, California, Kevin Love had 23 points and an NBA season-high 24 rebounds to help Minnesota stop a five-game losing streak by beating Sacramento.
Love, who missed the first nine games of the season with a broken right hand, was a force inside all night for the Timberwolves, who took the lead late in the first quarter and never trailed again.
Tyreke Evans and DeMarcus Cousins each scored 20 points for the Kings.
Luke Ridnour scored 18, while Nikola Pekovic had 16 points and eight rebounds for the Timberwolves, who had fallen into a tailspin after starting the season 5-2.
Two free throws by Cousins pulled Sacramento to 91-89 with just under 3 minutes left, but Pekovic got free for a layup and Love threw up an off-balance shot that went in, giving the Timberwolves a 95-89 lead with 27 seconds remaining.
Comments will be moderated. Keep comments relevant to the article. Remarks containing abusive and obscene language, personal attacks of any kind or promotion will be removed and the user banned. Final decision will be at the discretion of the Taipei Times.