FEATURE: 'Barmy Army' prepares for not so balmy conditions
England's "Barmy Army" of cricket fans pride themselves on enduring any hardship to follow their team, but snow in the stands is one problem they do not normally face on a tour of India.
Set in the foothills of the Himalayas, Dharamsala will host its first international match when India play England on Jan. 27 in a 50-over match that a diehard band of traveling supporters are expected to attend.
With a backdrop of soaring mountains and a culture based around Tibetan spiritual leader the Dalai Lama, the fixture will be a unique experience for the most seasoned supporter or player — as long as they pack enough jerseys.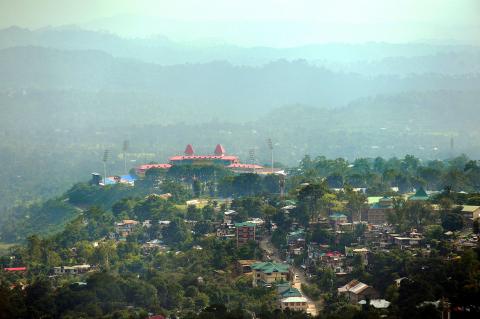 The cricket stadium of the Himachal Pradesh Cricket Association basks in sunshine on Sept. 26 in Dharamsala, India, in the foothills of the Himalayas.
Photo: AFP
England have their first practice game of the India tour today in Mumbai before four Test matches and two Twenty20 games, followed by a break at home for Christmas and then back for five one-day internationals.
The game in Dharamsala was originally scheduled as a day-night fixture, but has been changed to start at 9am to avoid a bone-chilling evening under floodlights.
"I am slightly worried about the snow," admitted retired colonel H.S. Manhas, the ground's general manager, who reports that temperatures can plunge to 2oC at night in late January.
"But I think everyone will have a good time. We have excellent facilities for players, and also for all fans, from local young people to corporate clients, who can hire boxes and eat fine food," he added.
The venue, properly known as the Himachal Pradesh Cricket Association Stadium, has already earned a solid reputation after hosting Kings XI Punjab in sell-out Indian Premier League (IPL) games for the past three seasons.
Located 1,162m above sea level, the pitch is lower than several South African international grounds, but it was covered in snow well into January this year and groundsmen are praying for a mild winter.
"It will be cold for the Indians, but OK for the England team," said Anurag Thakur, a 37-year-old member of parliament and a driving force behind the US$10 million ground.
"I think we will have blue skies and sunny weather," he said confidently. "We have been waiting for this moment since we started building the ground in 2002 and we can promise a warm welcome for our visitors."
Interest in the Dalai Lama and Buddhist teachings have attracted foreigners to Dharamsala for decades, and its budget backpacker hostels and guesthouses are expected to be booked out by England fans.
In the tiny town, they will be able to see saffron-robed monks visiting temples to chant, meditate and spin prayer wheels in ancient rituals that beguile many tourists and pilgrims.
The Dalai Lama has attended two IPL games, but will not be at the England match as he is traveling in the south of India.
"He doesn't claim to understand the rules of cricket at all," his spokesman Tenzin Taklha said. "He did say after watching for an hour or so that he enjoyed seeing so many people in the crowd having a good time."
The Nobel Peace Prize winner, who fled China in 1959, heads a community of about 10,000 exiles in Dharamsala, where they campaign against authoritarian Chinese rule over the Tibet region.
Yoga lessons, alternative therapy and holistic medicine are all on offer, but if England fans do find a sense of inner peace, they might discover they are less in harmony with the weather conditions.
Instead of the usual heat and dust of India, the playing conditions are likely to be closer to a county game in Yorkshire in April.
"The wicket here tends to have more grass than normal in India and it offers good, even bounce for fast bowlers," Thakur said. "It is a fair battle between bat and ball."
Explaining the ground's stunning setting, he added: "I wanted to build something different — somewhere that people would want to come and experience for themselves."
"I was told it was impossible to do, but now we have our first international match and against England, too," Thakur said.
Ticket sales have not yet been finalized, but prices are expected to start at about 1,000 rupees (US$19).
England fans who make the 12 hour drive — or a short, unreliable flight — from New Delhi will not regret the effort, one British member of parliament who played there earlier this year said.
"It is an extraordinary ground and probably one of the most beautiful locations of any cricket pitch in the world," said Matthew Hancock, who captained a touring side of parliamentarians. "We lost our game, but I hope that England can secure a better result."
For Thakur, the England fixture is just the start of his ambitions.
"What I really want is to host a five-day international Test match," he said. "That is the ultimate game for cricketers and to see it here in such surroundings is my dream."
Comments will be moderated. Keep comments relevant to the article. Remarks containing abusive and obscene language, personal attacks of any kind or promotion will be removed and the user banned. Final decision will be at the discretion of the Taipei Times.