Sugar Ray recounts sexual abuse
KNOCK IT OUT: After telling an audience of the sex abuse he suffered by coaches he trusted, the boxing legend said he wants to be the poster child against child sex abuse
Boxing legend Sugar Ray Leonard recounted his own sexual abuse by coaches he trusted, telling a Pennsylvania State College audience on Monday that he hoped to encourage other victims to report abuse to police.
Leonard spoke at a sold-out conference on child sex abuse hosted by Penn State weeks after its former assistant football coach Jerry Sandusky, 68, was sentenced to prison for between 30 and 60 years for sexually assaulting 10 boys he befriended through his charity for at-risk youth.
Leonard, 56, who retired after winning world boxing titles in five different weight classes, said that as a youth, he was sexually assaulted by men he trusted as his boxing coaches.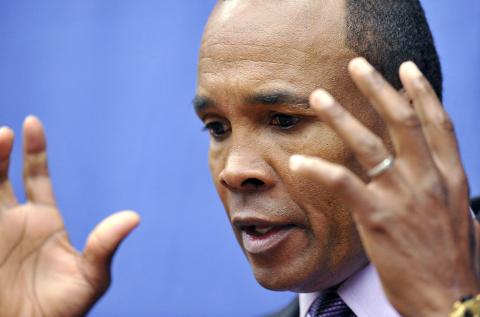 Former world champion boxer Sugar Ray Leonard speaks at the National Conference on Child Sexual Abuse on Monday at Pennsylvania State College, Pennsylvania, about being the victim of child sexual abuse.
Photo: Reuters
"Trust is a very sacred thing, especially for young people, kids or a young boxer, so I trusted these people, these individuals who impacted my life," Leonard said. "They told me everything I wanted to hear and more."
The former champion said he used drugs and alcohol to "numb" his shame at being a victim of child sexual abuse.
"I beat myself up for years," Leonard said as the two-day conference got under way, with Hurricane Sandy approaching Pennsylvania.
Leonard said he wants to step into the spotlight as a leader in the fight against child sex abuse in the hope it will help other victims find the courage to report crimes to police.
"I'm going to be the poster child. I don't care," Leonard said to applause.
"I will be that leader. I will stand right there and say: 'Yes, something must be done now. Not later, now,'" Leonard said.
Without mentioning Sandusky by name, Penn State president Rodney Erickson told the audience in opening remarks that he hoped the silver lining of the abuse scandal is that more victims will come forward.
"I hope that even more survivors will take their first steps towards recovery with the confidence that their family, friends and community will believe and support them," Erickson said.
Erickson took office after former Penn State president Graham Spanier and legendary football coach Joe Paterno, who has since died, were fired in the wake of Sandusky's arrest in November last year.
An independent report by former FBI chief Louis Freeh concluded that four former university officials — Spanier, Paterno, vice president Gary Schultz and athletic director Tim Curley — were alerted to Sandusky's abuse, but did nothing to stop it or report it.
Since Sandusky's sentencing, The Rape, Abuse and Incest National Network says the volume of calls to its sexual assault hotline has increased 47 percent.
Comments will be moderated. Keep comments relevant to the article. Remarks containing abusive and obscene language, personal attacks of any kind or promotion will be removed and the user banned. Final decision will be at the discretion of the Taipei Times.